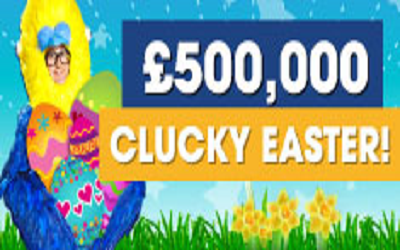 We have done our homework, searched through every Easter basket, cracked open every egg and search every corner of the globe for the biggest Easter promotion of 2013. It didn't take long to figure out that William Hill Bingo tops the list with a £500,000 eggtravaganza promotion.

It appears the Easter Bunny combed every bingo site across the seven seas and settled on William Hill Bingo to drop off his biggest bag of treats. If you ask us we say it's a good choice with promotional offers that are always hopping with tasty Jackpots, Bonuses and a heap of magnificent games.

This weekend is destined to be one of the best Easter's ever for players with a chance to win £500k in Guaranteed cash prizes! It all begins this Friday 29th March through Monday 1st April where sheer pandemonium and excited anticipation takes place.

Join the Main room from 12pm each promotional day for a chance to win big cash prizes. Tickets for the Easter celebration start at a cheap 5p each with tons of fun themed for this special holiday. Games include:

£1,500 Egg Hunt

1&2TG Games

£1,500 Easter BOGOF

£2,000 Easter Treats

£1,250 Easter Bunny Bingo

Every day there is an hour long BOGOF between 5pm – 6pm including the £2,500 Bingo games that start at 7pm. Pre-buy your cards in advance so you won't miss out on these special games.

The Easter fun doesn't stop there because there is the £5,000 Free Bingo games on Monday 1st April. To receive an entry to the Free Bingo games in the Eggstravaganza room purchase a minimum of £30 or more between Thursday 28th March and 7pm on Monday 1st April.

There will £5,000 up for grabs with £300 cash games including a 1Tg and 2TG Bonus fund. The games start promptly at 8pm on Monday.

William Hill has a large community of players and has the integrity of a name you can trust. The biggest winner to date is the £1.4 million Jackpot that was won on the Progressive Slot Clover Rover. Join today and get a £25 New Player Bonus and you may just break the record and become the next huge winner!