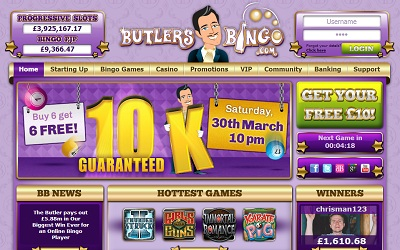 I am turned on to bingo by friends all the time. One of the best referrals I was ever given was Butlers Bingo. It's definitely on my list of best Microgaming online bingo sites ever. They always have the latest slots and action packed bingo. Sometimes a bingo girl just needs a break from bingo. It was time for The Dark Knight.

I play all the latest slots when they are released and The Dark Knight was no exception. The graphics are really awesome as usual with a slot game from this software. If you haven't played it before, it features 243 ways to win which is a nightmare for me. Whenever there is a zillion ways to win I struggle to find even one. There's no doubt that I play this game for the graphics.

I started betting fairly low and as always, I become entranced with the audio, design and most importantly, the features. I really think that it's a strategy with Microgaming. Let's make the most visually amazing slots so that the players forget that they're losing. It works so well and this time was no exception. My bankroll was nearly down by half in no time at all.

Now this is what leaves me flabbergasted. I had wilds all over the screen and not one single win. There's 243 ways and I got nothing? Batman and the Joker will increase winnings randomly even if your spin doesn't result in a win. Overall, the features were scarce but I held on to hope that I'd hit the free spins soon.

I kept my fingers crossed and finally triggered the free spins bonus with 15 free spins. I was betting £2 per spin for the majority of the time and the free spins awarded me with £4. Seriously, £4? I wanted to launch my laptop through the window. My balance was now so low that I couldn't even take one more spin. During regular play, Batman jumps down and awards random wilds. I saw him one time and the wild he gave me did me no good.

I'm wondering what other players feel about Microgaming. They create great concepts but it often seems that they take an existing slot game and swap out the graphics. Immortal Romance, Lord of the Rings, Thunderstruck II and The Dark Knight are all the same game with different audio and graphics. If you've played one you've played them all.

I would have loved to pull off a big win but that wasn't in the cards for me today. Better luck on bingo next time.