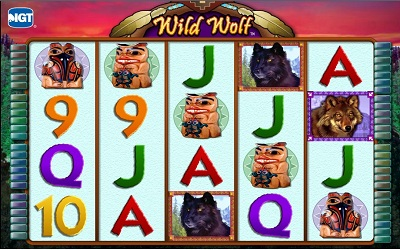 I have been on a very bad streak in terms of online bingo. I've played every online bingo game under the sun whether it's been 30-ball, 75-ball, 80-ball or 90-ball. Since Virgin Bingo switched platforms, I decided to check them out. I've always admired and appreciated the wide range of games available there. I was concerned that this would change when they switched platforms but luckily my favorite IGT slot games were still there.

I had a set budget and headed for Wild Wolf. I played Wild Wolf in the land based casinos so you can imagine how thrilled I was when I found it at an online bingo site. The black wolf is the wild symbol and appears stacked on the reels. I'm a sucker for a stacked wild! My dog's ears perk up too when he hears the howl of the wolf.

I was playing £1 per spin and held my breath for 3 bonus symbols which awards 5 free spins. Well, if I would have held it any longer, I would have passed out. I always find it extremely difficult to get a bonus on IGT slots.

I was just starting to think that my luck was just as bad on the slots as it was on bingo when I got the free spins. I'm watching the reels so intensely and I could feel my face get hot when the bonus ended. The payout was a whopping £1.80! I regained my composure and managed to hit a few stacked wilds and got a decent win or two. I was hoping for another round of free spins.

Many slot games have symbols that look alike. There's always a symbol that looks just like the bonus symbol or another high paying symbol. You think you've got something and you stare at the screen wondering if it's broken. It's not broken, the game developers have played a trick on us. They probably think that it would be hilarious to watch players assume that they have hit a big win or triggered a bonus. Surprise! Just kidding!

I managed to trigger another bonus and this time I won just over £20. I was a bit happier but compared to the time that I won £185 during the bonus, this was nothing. My bankroll had dwindled down and I was left with just a couple of spins. I triggered the free spins once again and brought my bankroll back up.

When bingo does you wrong play slots!