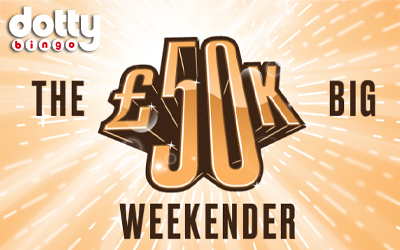 This month we celebrate many factors; World Ocean Day on the 8th, World Day Against Child Labour on the 12th, World Blood Donor Day on the 14th, Father's Day and the annual Soar Eclipse on the 21st followed by United Nations International Day in Support of Victims of Torture on the 26th. Here's where thing's get interesting; you could add your very own day of celebration to that list, courtesy of Dotty Bingo.
Promotion after promotion is being rolled out over at Dotty and each one is guaranteed to not only entertain, but to see real players winning real cash! First up is the 'Win £5K' special where you could win that huge sum of money any day until the end of the month.
A massive five grand is up for grabs in the popular 90-ball bingo room known as Broadway. Simply call house within the stated ball count to win. Usually, these types of promotions I try to steer clear of but knowing the ball count is increasing daily until they guarantee there to be a winner, makes all the difference!
The final bingo game is scheduled to take place at 20:45 on June 30th and if the prize hasn't already gone by then, it will be won in that final game. Chances are it will never get to this because on average, a full house is won between 50 and 55 calls – it would need to get to the full 90 to go the full length and this is never going to happen.
Splashing the Cash
Two other promotions guarantee more than £100K being paid out, which is a phenomenal sum. Between now and June 25th, fifty grand in guaranteed prize pools will be won over in the Friendship room between 7pm and midnight. Tickets will set you back just 30p, now that's cheap as chips!
Make sure you clear your diary for the weekend of the 26th to the 28th or you'll miss out on even more prizes. Dotty Bingo's 'Big Weekender' takes place on the final weekend of the month – every month, and as you can probably guess, big cash is on offer to the luckiest of dabbers. Three rooms will be hosting the event; Friendship, Rainbow and Speed and tickets will cost between 5p and 40p, depending on the prizes on offer.
There are total guaranteed prize pools of £50,271 within the promotional period (running 11am to 11pm), of which are as follows:
Friendship Room: £12,750 will be won on Friday 26th, £12,750 on Saturday 27th and £12,750 on Sunday 28th.
Sapphire Room: £2,007 to be won on Friday 26th, £2,007 on Saturday 27th and £2,007 on Sunday 28th.
Rainbow Room: £2,000 up for grabs on Friday 26th, £2,000 on Saturday 27th and £2,000 on Sunday 28th.
As usual, there are slot tourneys and free bingo games running, as well as slot sprints (on thrilling titles) where you compete against your fellow players to win a share of bingo bonuses or extra spins!
Terms and conditions apply
By
Kayleigh39