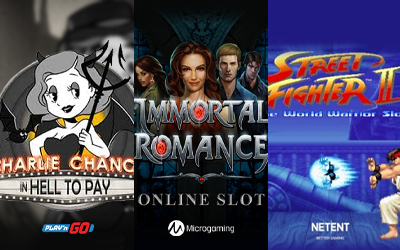 NetEnt are taking players back to 1991 with Street Fighter II: The World Warrior Slot, thanks to a deal with Capcom, the video games company. This is your chance to revisit and re-experience the thrills of the globally renowned Street Fighter.
"For some of you it'll seem like only yesterday. For others, you might not even have been born! But all of you will love the feel of this slot, which is based on what is arguably the greatest fighting game of all time." Intrigued? Let's discover more!
The 5x5 video slot delivers wins via a cluster pay mechanic; one win could lead to man others in a single spin. But before all that, you must choose one of eight iconic characters to represent you on the gritty streets. If you win your battle, you're awarded 'Beat the Boss' bonus spins where there are four levels of multipliers up for grabs.
Beat the boss and you'll progress to even bigger win potential! Keep on fighting those opponents until you come up against the biggest boss – M.Bison! Packed inside the reel engine are nostalgic graphics and sounds as well as wilds and a wild showdown of combos (on 7 or more-point wins). Where can you play? Keep your eyes peeled for its launch across the NetEnt network soon.
Tweaked a Classic
One of the Microgaming's most popular slots was given a little makeover last week, so now, when playing, a more immersive and mobile-friendly layout appears. The fresh take on a classic is still set to allure players from across the world, despite being on the market for almost a decade.
The remastered HTLM5 format was introduced to support a host of feature upgrades, including bonus spins and auto play, quick spin for those who like to play a little faster than usual and there's even some improvements with the animations and audio. Get a fresh taste of vampire heaven with all the usual blood-curdling features over at Pots of Luck Bingo.
It's Getting Hot in Here
Play'n GO's Charlie Chance in Hell to Play (goes live any day now!) is a stunning 3-reel video slot based on a classic – even the animations are classic! Charlie Chance and the devilishly good devil were inspired by the works of Max Fleischer, a pioneer of modern age animation with the likes of Popeye and Betty Boop.
Charlie finds himself in hot water and to escape the hot-fiery furnace in which he finds himself, he must outwit the devil. A trio of devil icons on the reels will launch the bonus game where a host of bonuses.
are offered, including multipliers, win spins, wild scatters, instant wins and bonus spins!
CEO Johan Törnqvist had this to say on slot release 15 of 52; "Charlie Chance offers a lot to the slot market. It's a simple game, with lots of fun features and great animation to delight and entertain players!
It is a perfect merging of the classic fruit machine experience and more modern mechanics and gameplay, the ideal opportunity for older and newer generations of players to get an experience of each other's worlds, while still enjoying their own."
Kayleigh39