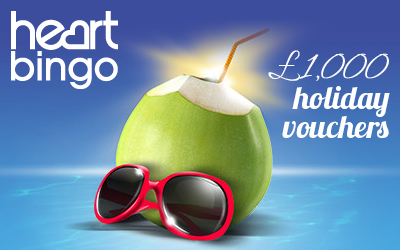 Holiday coupons and travel tickets have always been popular prizes, especially among top brands like Heart Bingo Other sites feature daily quiz chases or winter warmers, but not these guys. The UK-based site even features its own radio station and is giving away not one, but two holiday prizes for eight days!
The promotional offer runs every day between the 1st and 8th of November under the name Winter Sun. To win a travel voucher, players must first opt-in and wager £10 each day to earn an entry into that day's draw. Only one entry per day is permitted, but the participation is allowed 8 days. Each day, two winners are drawn and qualified for a £1000 coupon, which can be used to purchase a nice holiday! No cash alternative is possible, nor is the prize available for a trade-in.
The operator is in for a special treat and therefore encourages all its players to enjoy chat games, as these can improve the chances of winning. It is highly important to join the Lollipop room at 9PM and take part in a "chat story". This option allows all participating players to win a share of the pot.
A £2 wager ­is required to be eligible to play in this room, seven days prior to the promotion commencing. If you have already reached this wagering level, you will be given the right to play a daily free game and win cash prizes or free spins. Pay attention to Doubly Bubbly and Paper Win, as these are the free games that qualifying depositors can play each week.
Among its amazing promotional offers, Heart Bingo features Mega Bingo Month with over two million pounds worth of cash prizes, 20K Tonight with a £1,000 Full House prize every night and more! Be sure not to forget your best friend, as you can earn an additional £20 for free.
By
Alex Hoffmann