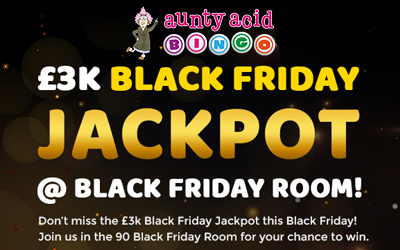 The archetypal nutty aunt (let's face it, we all have one in our families) may be full of witty repartee – but when the chips are down, she is one remarkably generous soul and we have a way to prove it.
You know how Black Friday is always a human stampede-ridden affair that costs more nerves than even money (and it costs a lot of money)? Fancy avoiding getting run over by a mob of panicky consumers on a last-minute shopping spree? How about not earning bruises and just spending a tranquil evening at home earning big cash instead?
Yes, we know it sounds good. Thanks to
Aunty Acid's Bingo
, there's a way. This Black Friday, at 11 PM GMT on November 24th, the site is holding a
£3K Black Friday Jackpot
in 90 Black Friday Room!
For a mere 25p per ticket, you can take part in late November's central event and earn some seriously good cash prizes! A 1 line win earns you £250. A two-line victory is worth £500. 1TG wins £750 and a full house – a whopping £1000! No living, thinking soul would miss out on an opportunity to score a grand, right? Right!
Standard Terms and Conditions apply, so check them out before partaking. Naturally, only players over 18 and registered with the site are eligible.
We told you Aunty's sass can get very rewarding—now write down the date and time in your memo and, fingers crossed, you may come out a winner…
By
Andrej Vidovic