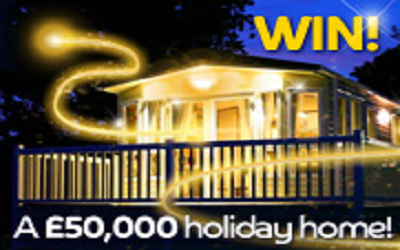 Home is where the heart is and playing online Bingo at home makes it that much better. The Bingo community is spoiled with more choices, promotions, Bonuses and game variety that they ever thought possible back in the brick and mortar halls.

The entertainment center in your house that once consisted of a stereo system, state-of-the-art HD TV and gaming systems like Wi and X-Box have always been great luxuries, but with the wonderful world of online Bingo it has taken us all in a new direction.

Gala Bingo realizes your home is your castle and the Holiday Home promotion underway is an exclusive extravaganza worth participating in. A holiday home valued at over £50,000 is up for grabs and could be you that win it!

This special promotion is possible through Gala's partner Park Resorts, a leading holiday organizer. The winner of this fabulous offer will have a choice of over 33 amazing parks around the UK area for their brand spanking new static caravan. Enjoy family fun for many years to come and make holiday memories that will last a lifetime.

Details:

Promotional offer runs until Thursday 29th August.

Play qualifying games in selected 90 Ball Rooms* from 10am-10pm.

All Full House, 2-Line and 1-Line winners get 1 FREE ticket to the Grand Finale.

Games will take place from 10am – 10pm where there is 4 games per hour. Play in the following 90 ball bingo rooms: ity, Country, Seaside, Royal, Station, Dreams, The Book Club and Gala Live. Win a Free ticket to the final game when winning 1 line, 2 line and Full House.

The Grand Finale will star Alison Hammond, LIVE on Gala Live from Park Resort, Clacton-on-Sea, Essex. It starts at 9pm on Friday 30th August and tickets are just 50p each across all 90 ball bingo rooms.

The winner of the Full House will win the caravan. In there is more than one full house winner, they will share the usual full house cash prize and then a random prize draw will be used to select the first winner who will win the caravan prize. Additional winners will each win £500 cash.

The night will be full of summer fun with Alison hosting games that lead up to the huge moment players have been waiting for.

To qualify all entrants must be a resident of the UK. There is one prize up for grabs and the static caravan will be in complete working order ready to have a blast in. The terms state that the winner of this caravan must have ownership until January 2015.

Gala Bingo wants to make your holiday dreams come true!