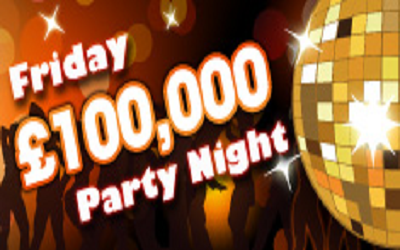 William Hill is a household word in the UK and is a legend in its own time. Dating back to 1934 and building one the largest empires in the industry speaks volumes about their integrity and name players can trust.

Adding a Bingo division to this dynamic network is the cherry on top of the bingo cake! There are few sites that can offer huge promotions like William Hill Bingo can and players reap the fantastic rewards and benefits.

There is a party event going on that will ignite your mood to grab your party hats, favors and join in on one of the most memorable celebrations in 2013! Turn down all the other invitations because nothing will quite compare for what William Hill Bingo has in store.

Ok, now that the suspense is building it is only fair to get down to the nitty gritty and spill it. Wipe your calendar clean on Friday 26th April and participate in the £100,000 Party Night! Take a deep breath and simmer down because it is a lot to take in and you are overloaded on excitement but you will need to be in your best form to attend this affair.

The games begin promptly at 6pm and take place in the Main Room. Go ahead and buy your tickets in advance so you won't miss out on a chance to win big, we take that back win HUGE!

There is a Guaranteed £100,000 in Jackpot prizes just waiting to be won with games such as Grab a Grand paying £1,000 for 1 line, 2 lines and full house, 2K Bingo with a £2,000 prize and Friday Fun paying £2,500!

No worries about coming so close yet so far because there are plenty of 1TG and 1&2TG games including Roll On Bingo games. Plus to top it all off there are two daily Bingo Linx games that will also play at 6 p.m. and 10:30 p.m!

This fantastic promotion will run from 18:00:00 - 23:59:59 on Friday 26th April 2013 only so be there or be square folks. The £100k Party Night is linked to other sites on the Virtue Fusion network.

And here is a big juicy secret we are sharing with you; it's not the last party, not by a long shot. Every single month this phenomenal party will repeat on the last Friday of the month and yes there will be 100K up for grabs again.