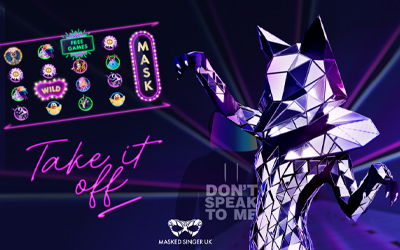 The new series of The Masked Singer started just a few weeks ago and to celebrate, Play OJO Bingo have unveiled a brand-new branded bingo room, slot and instant win after striking a deal with Bandicoot TV, the owners of the weird but whacky singing show. So, what's it all about? Celebrities take to the stage in bizarre outfits to give their best performance and it's up to the judges and the public to figure out just who's hiding behind the mask. Seams a bit simple, but it's a series that is taking the world by storm!
Singing their hearts out with an aim of eliminating their opponents, the celebs may not necessarily be singers – we've seen actors, sports personalities and even comedians grace our screens, but it was queen bee who won series one, and the person hiding behind the costume was a very talented singer known as Nicola Roberts, aka one of the members of 90's girl band Girls Aloud.
Tell Me More
Now we've given a little background on the show, it's time to take a look at the bingo room, which by the way is exclusive to Play OJO Bingo! Styled on a traditional bingo game (90-ball bingo), players compete for one-line, two lines and a full house in each game, but before you start to dab that ticket, you must select one of the Masked Singers to represent you in your game. If at the end of the game, your chosen icon is selected as the winner, you get a free ticket into the next game!
The design of the room is in-keeping with the theme, so you have the iconic tune playing out as well as a musical interlude of "Who's Behind the Mask" each time you enter. There's a big emphasis on showbiz with this one and it allows fans of the show to immerse themselves into the action while delivering a shot at winning one of three main prizes as well as a must drop daily bingo jackpot!
Open daily between 9am and 11pm, the bingo room delivers show-stopping features and plenty of ways to win from just 1p a ticket. Even if you don't win the house, you've a 1 in 7 chance to play for free the next game! If you're not sur which character to choose, hit that mask and it will choose for you (lucky dip!).
To win the big pot of cash, call house within the stated ball count. If the jackpot hasn't gone by the final game, Play OJO will increase that ball count to 90 to guarantee a jackpot winner! Plus, on top of that there's 10% cashback (real money!) on every bingo ticket purchased and everything you win is 100% wager-free! You'll never have to complete wagering requirements on any bonuses or rewards at Play OJO Bingo!
Kayleigh39