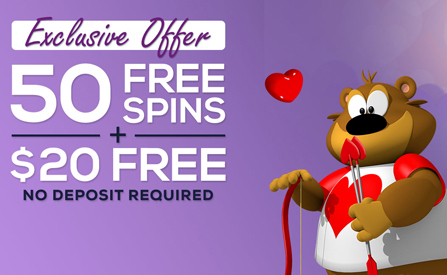 Free Trial Offers Ahead Plus Cash-Packed Promotions
This one's for our readers across the pond. If you're tired of playing the same old bingo games and spinning the same old slots, why not try your luck elsewhere? New promotions and bonuses could be the difference between you winning and losing and unless you give them a try, you won't know! We strongly advise you accept any trial offers that are put before you to eliminate any risk to your own funds. If you like what you see, there's a welcome offer waiting to boost your (bonus) bankroll and your fun!
Five of the Best
Having been 22 years in the bingo business, Amigo Bingo knows how to pull off a promotion and it all starts with our exclusive reader offer of a $50 trial plus 50 free games. Every month there are bingo and slot tourneys offering extra prizes for those takin part plus re-loads, no deposit spins, mega jackpots, Bitcoin bonuses and freerolls! Plus, the free bingo room is open to all members 24/7 with little bonuses up for grabs.
BingoFesthas more than a decade of experience in online bingo, delivering award-winning bingo content and casino games plus cash-packed promotions all-year round. Since launching, millions have been won in cash prizes and thanks to on-going specials, there are an unlimited number of ways to win when playing. Popular features include the bingo tourneys where winning more than your roomies guarantees your extra cash. March promotions are set to include a St Patrick's Day bonanza where free games will be awarded every Thursday and a $20K bingo party with multi-part warm-up games and buy 7 get 3 free offers!
Bingo Café is your laid-back online bingo site with a relaxed atmosphere, only just like coffee, this place has the potential to send your adrenaline pumping with huge jackpots and mega bonuses! New players receive $900 in free bonuses on their first 3 deposits as well as 10% cashback on all deposits made in the first week of playing. A truckload of bonuses and a great bingo environment are promises that live up to their word.
Bingo Billy welcomes you with an exclusive $80 free trial bonus, with no deposit required! That's $80 to play in as many bingo rooms as you like or to use on some great table games or slots. Highlights include free bingo 24/7, chat games and quizzes, BOGOF offers, a massive deposit package of 500% on first deposits, 525% on second, 550% on third and 600% on fourth and fifth deposits. Plus, if you join the dedicated Bingo Billy group on Facebook you can win raffles, cashback and much more!
Last but not least it's Cyber Bingo. Established in 1996, this popular US bingo site guarantees a new set of offers and promotions every month, including offers specifically for VIP's. Special funding bonuses, Nickel games, an option to create your own custom bingo cards and guaranteed jackpot games are just a few of the many different customer favourites here.
By
Kayleigh39