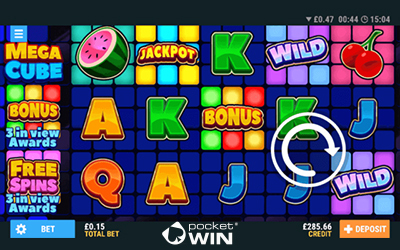 Free Games on the House for Everyone!
No Deposit Bingo is all about the no deposit offers and this week we've three risk-free offers to tell you about. You can claim as few or as many as you like and in any order of your choosing. Whether you're a new customer to the online bingo website or an existing one, the offers are exactly the same; you log in and play the on-screen mini game to reveal your number of spins. Everyone is guaranteed free games on the house to test drive three new progressive jackpot releases, how impressive is that! So without further ado, let us introduce you to game number 1!
Perfect 4 by mFortune
Two's company, three's a crowd but four can open a great big cash door in the new Perfect 4 release over at mFortune HQ and there are as many as 40 free games waiting to be claimed. Designed to give players a taste of the high-life, you'll be taken up to the penthouse where a party like no other is underway. It's not only the apartment that's high here, but the multipliers too and they can spin into action on any spin. Bonus features include:
Bonus Spins: A trio of spins icons gets you 7 free games with an option of triggering up to 21 additional spins. Super symbols in view will be gathered and awarded should three super spins symbols land.
Super Spins: Like free games only without the low paying symbols. Three super spins symbols awards three spins. Keep your eyes peeled for a Party Favour appearing as this has the power to award up to 10 more spins!
Progressive Jackpot: Spin in a 5-of-a-kind combination of jackpot symbols to unleash the £468K (and counting!) pot of cash into your bankroll. This jackpot is seeded at £400K so once won, it will begin to mount up again from this starting point.
Mega Cube by Pocket Win
It's retro, fruity and a disco on reels with wilds, a mini game, bonus spins and a progressive jackpot! To play this game, you'll need a mobile or tablet that runs on iOS 10 or Android 5.0 and above. Or a laptop or computer. Think Saturday Night Fever and you won't be far off the mark with this one! Bonuses of Pocket Win's newest game include:
7 Steps Mini Game: Spin the dial and take your step along the tail. The further you go, the more valuable the prizes become. Land on red or yellow corner tiles to increase the multiplier up to seven times per corner to an incredible 5,000x per tile!
Bonus Spins: This feature comes complete with a doubling wild!
Progressive Jackpot: The jackpot guaranteed starting value is £100K and is currently more than £170K! A win line of jackpot symbols triggers the pot.
Wild Pirate King by Mr Spin
It's time to head off out across the seas in search of Davey Jones' lost treasure! Grab the wheel and get ready to steer your ship through turbulent and often haunted waters to plunder the most precious prize of all – the treasure of the pirate king! It's not only the characters on these reels that are scary, but the jackpot is too with more than £280K up for grabs! Mr Spin has crammed this latest release with exciting features, including:
Treasure of the Pirate King Trail: Every step along the trail takes you toward higher value prizes. Take a spin of the wheel and move along as far as you can. How far can you get before you're caught?
Bonus Spins: Land three, four or five free games symbols anywhere on a win line and you'll be rewarded with 5, 7 or 9 free games respectively.
Progressive Jackpot: A complete win line of jackpot symbols will trigger the progressive jackpot sum. When won, it will reset to £100K and begin to roll over until won again.
Kayleigh39