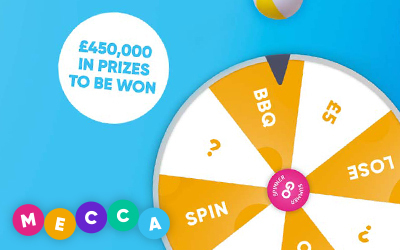 Plenty to Get Excited About This June
They don't come much bigger than this – a bingo prize draw to win a brand-spanking new Mini Convertible, and £500 in cash thrown in for fuel! No bingo ticket dabbing involved or racing to call house before the thousands of others all wanting to get their hands on this beauty of a motor, all you need to do is enter the prize draw by purchasing a ticket or you can enter for free by sending a postcard via 1st class post!
Mecca Bingo's raffle is a big one, with shopping vouchers, take-aways and much more up for the taking. The great thing is every single draw can be entered for free, yes, there's a no deposit entry route for each one. If you want to win the mini, buy your tickets online for £1 each (minimum of 2), or send a postcard to Mecca Bingo Raffle, PO Box 5002, Alton, Hants GU34 9BZ, stated the prize draw, the closing date (Friday June 18th) along with your name, telephone number and email address.
By entering the car draw, you also get an invite to…
…a free bingo session where £2,500 will be won! During the bingo event, the winner of the Mini will be drawn live on Mecca TV! That's not all! Mecca Bingo also has a summer treats special where a free spin on the wheel can be claimed daily to win wager-free perks (including no deposit spins), free bingo opportunities, as well as entries into free prize draws to win BBQ's, furniture, holiday vouchers and more!
And The Thrills Keep on Coming
Another thrilling line-up comes from Tombola, Britain's biggest bingo site! Not only are the hamsters getting ready to race on a colourful track in support of Pride Month, but there will be cash-boosted games featured throughout the site! Paper, their first-ever penny bingo game, will be guaranteeing full house prizes between 1st and 4th of June. Between 9:15pm and 10:15pm, you can win between £10 and £100 (determine by your stake), in this exciting new 50-ball bingo game.
Saturday 5th and Sunday 6th sees extra prizes (£100 to be precise!) being awarded on the American shape in Bingo 75, between 8am and 10am and then again between 8pm and 10pm. Every Monday in June, Bingo 90 guaranteed one line of £2K, two-lines of £3K and a full house of £10K! Games kick off at 9pm, 9:30pm and 10pm. Bingo Lite gets the princely prizes treatment every Monday in June too, with guaranteed prizes of £150, £250 and £600 between 10pm and midnight.
Cinco Nights is one I've been looking forward to for a long time, because you can double your money when the joker card makes an appearance! Jut so you know what to look for, the joker will appear after ticket sales close and before the first card is drawn. Boosted prizes are on the 8th and 9th between 9pm and 10pm.
Will you be taking part?
Kayleigh39