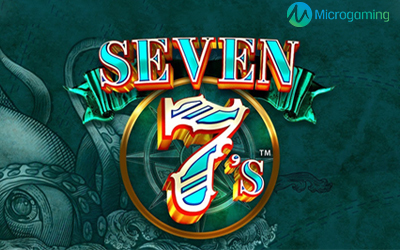 After teaming up with Crazy Tooth Studios, Microgaming has released a truly unique slot machine which is not only simple to play and understand, but extremely fun. Delivering a dose of nostalgic fun via a classic reel engine with the one win-line, add in a re-spin mechanism and you've got yourself one hell of a thrilling machine.
All it takes is the one symbol; the number seven to grace the one reel, one-symbol reel engine and the re-spin fun kicks in. Any other symbol landing on the centre panel will have no effect whatsoever – not even on your bankroll.
The clue to the big wins is in the name…
…seven sevens are needed to land a win of up to £250K, but how do you manage seven symbols on a one symbol reel engine? Ah, now that's where the 'Continuwin' mechanism comes into play.
Landing a single seven will open up the reel machine. Should another seven land on the centre of the reel two, not only are you guaranteed a win, but the reel engine opens up a third reel. This process continues until you either have seven sevens on show or a bar falls to break the spinning process.
Keep your eyes on the 2x multiplier symbol. Each wild multiplier has the ability to double your win (for 6 symbols or less) when landing next to your win. Seven 7's is a bonkers invention with big win potential, hardy surprising coming from a company who called themselves Crazy Tooth Studios.
Where to Play
A handful of new games, including Seven 7's can now be played at Dotty Bingo where hundreds of the very best games – from roulette with the single zero (European Roulette) to free bingo games, can be accessed 24/7. And, for those of you who enjoy spinning the reels in search of a life-changing win, you'll not want to miss the slot sprints.
Do you have what it takes to spin your way to the top of the leader-board? By join in in with your fellow roomies, you can win a share of casino bonuses and bonus spins each week.
The fast-paced tournaments awards prizes for wins not wagering – one win awards 1 point, two wins awards 2 and so on. Opt-in and play your favourite slots as you try to win one of 20 prizes. Remember, everything you win when you're spinning is yours to keep!
Slot sprints take place around the clock…
…perfect for night owls and early risers. To maximise your chances of winning, try joining the sprints during off-peak hours; from midnight onwards is the best time.
If you're not a member, you're eligible for the bingo bonus welcome offer which is yours in just a few clicks. Deposit £10 and double your money with the 100% welcome bonus, which can then be used in any of the big jackpot paying bingo rooms or on the many casino games listed.
Kayleigh39