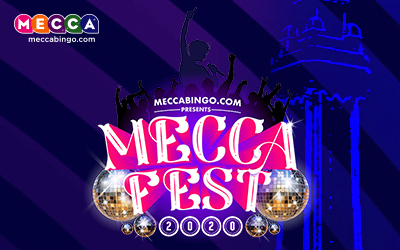 There's a huge bingo event coming – the biggest of its kind, and the question on everyone's lips is; "where can I get tickets." Since Joe Swash graced our television screens back in January, bingo players have been clambering over each other trying to get tickets, but sadly, this is a prize that money cannot buy.
Don't be too disheartened…
…there are still many ways to get your name on a pair of sought-after tickets, which include hotel and travel expenses. You can either play bingo online or spin the daily spinner wheel (you can win free bingo and other offers via the wheel too). If you manage to come up trumps with either of those, your name goes into the draw for the Mecca Fest tickets.
Want to maximise your chances of winning? You'll be pleased to hear that Mecca Bingo have introduced this promotion to the bingo clubs around the UK, so now, you can daub and grab tickets when you're enjoying an evening (or afternoon) session of bingo.
For just £1, you could be making your way to Blackpool where the most exciting, star-studded night of live entertainment will be getting underway.
Call house in your club…
…to win double the prize money and the chance to rub shoulders with celebs on the red carpet in May. The most exciting bingo party ever is coming and the only way you can be there is by playing bingo games with Mecca.
Exclusive Bingo Event
Watching the announcement being made on YouTube by the charismatic TV personality Joe Swash, was the fuel that kick-started me into picking up my Mecca dabber once again. I've had my name go into the hat a few times for the draw, but not won yet (I live in hope!).
"Are you guys ready for a party? I'm here at Blackpool's Tower ballroom to tell you about the most fun, crazy, bingo night the UK has ever seen. This unique venue will be transformed on the 30th May 2020 and you could be here too alongside myself and some amazing music acts and celebrities. Plus, we're going to be giving away…
…£100,000 worth of bingo prizes on the night. So, if you fancy a good party and a bit of the action, just visit the online bingo site."
What we know so far is that there will be a total of six celebrity performances; Scot Mills from BBC Radio 1, Peter Andre the heartthrob 'Mysterious Girl' singer, Sister Sledge who shot to fame in the 70's, Rak-Su who won X-Factor in 2017 and Tristan and Kristina from Strictly Come Dancing.
If you've been counting, you'll know I've only mentioned five of six, so just who is the last performer? Nobody knows yet! Celebrity guests appearing on the night also include:
Bobby Norris from TOWIE
Duncan James from Blue
Charlotte Crosby from Geordie Shore (2011)
Georgia Harrison from ITV's Love Island 2017
Jack Fincham also from Love Island 2018
Kelvin Fletcher from Emmerdale
Michael Griffiths from Love island 2019
Nathan Henry from Geordie Shore (2015)
The only person missing is you!
Kayleigh39