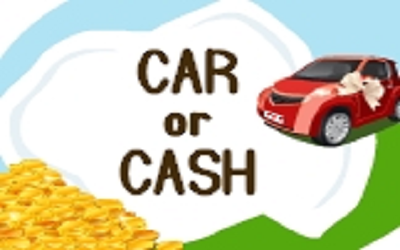 Life is full of decisions, but some are harder to make than others. Should you paint the kitchen white and stay safe or get more wild and daring choosing a brilliant shade of purple! Dinner plans at 7 or 8, wear your fancy dress or casual suit? These are somewhat easy tasks that requires little painful decision making.

It gets a bit tougher when shopping for your wedding dress. Ever notice that most brides end up choosing the first dress they tried on! Or house hunting, now that is a major event. Should you sacrifice the smaller kitchen for the extra bedroom or choose the home that has walk-in closets but a small yard?

Bingo in the Sun is your destination and perfect considering spring has sprung. But don't think you are out of the woods when it comes to making a decision! They have a campaign that will require you to make a huge decision.

The Cash or Car promotion is already underway but don't worry this exclusive doesn't end until May 7, 2014. This magnificent promotion gives the winner an option to pick the car or cash.

Choose between a brand spanking new 5Mart Car or £5,000 in hard cold cash! There is plenty of time to decide but not an easy decision. Ride down the street in shiny new wheels with the wind blowing through your hair or take the cash and run to the nearest shopping mall, pay off bills or plan that vacation of a lifetime.

If you want to be in it for a chance to win it there are two ways to get tickets toward entries. Buy as many tickets as you want until the big day at £1.50 each or get tickets absolutely Free!

For Free tickets all you have to do is win on one of three Bingo patterns; car pattern, number 5 pattern or bingo on all letters that spell C A R. The maximum amount of Free tickets is 45 and will be valid until April 30, 2014 to win.

To qualify you must be a resident of the UK to receive the car, all other players outside the UK are eligible for the cash only. You must also be a registered player who has made a deposit.

If you are the lucky winning which one will you choose; car or cash! Nobody said it was going to be easy!