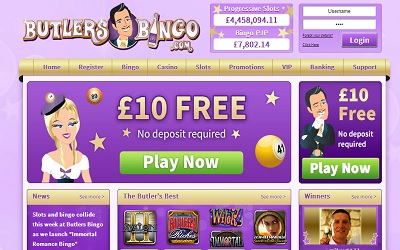 It seems like there are always jackpot winners at Butlers Bingo. I am a big fan of Microgaming slot games so you combine this with bingo and I'm in heaven! Now if only I could get my hands on one of those jackpots.

One of the greatest games offered at Butlers Bingo is a monthly game called "The Butler's BIG £10,000".

"Join The Butler for The BIG £10,000 jackpot on Saturday 29th March 2014 @ 10pm in the Friendship AND Harmony Rooms!!

"Buy 6 tickets and GET 6 tickets FREE!! £1 per ticket

"Just enter any bingo room, click on the 'Advanced Buy' button, select the 'Special Games' tab and look for our BIG £10k game... GOOD LUCK!!!"

This is one game I always leave on my calendar. It's not every day you find a bingo site that offers games with prizes this big!

There was time for slots but I had to start off in the online bingo rooms. I immediately jumped into a 90-ball bingo room. The prize was pretty decent but there were a lot of other players going for it. I went ahead and bought the maximum number of tickets for 2p each. I'm always amazed when I come across nice prizes in bingo rooms with tickets for pennies.

So, the game began and I was absolutely nowhere. I was miles away from the line so I was already frustrated with my cards. Someone called for the line in record time. The player had the line within something like 6 calls. Someone certainly had a lucky set of tickets and it wasn't me.

The double line was even worse. It was so bad that I started to lose interest and that's rare for me. Needless to say the entire game was awful but I stayed for another.

There I went again with the max tickets and started out the same way. I wanted to scream. By the time the full house rolled around I was furious. I really wondered if my negativity had affected my game.

Not wanting to push myself over the edge I gave up on bingo for the day. The plan was to hit the slots but somehow I opted to play a bit of bingo first. As annoyed as I was there was no way I was taking this attitude over to the slots now.

Winning a jackpot on Butlers Bingo is still on my to-do list!