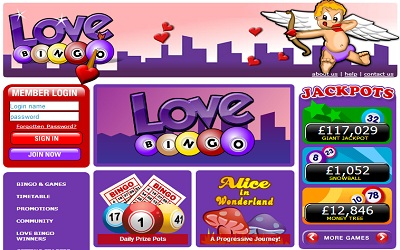 It's finally February and February is the month for love. Love Bingo that is. Since Valentine's Day is coming up I thought that it would be great to give myself a little gift. Besides, if we don't love ourselves, who will?

Some of the most adorable mascots in the world live at bingo sites and did you know that Cupid is alive and well at Love Bingo? He's shooting his arrow and deposit bonuses, promotions and awesome games. If you like St. Minver software, Love Bingo has a good reputation along with Yahoo Bingo, Chit Chat Bingo and Bingo Joy. I like the way the promotions are displayed on the Promotions page. The month is broken up and the upcoming promos are available along with the dates. Some bingo sites don't do this. You have to wait for the newsletter and even then there are times you don't know the promo is happening until the day of.

Since this is the month of love, Love Bingo is loving their bingo players by offering 14 hours of totally free bingo on Valentine's Day, February 14th. These will be 75 ball bingo games. All prizes will be awarded in cash as long as you're a depositing player. If you have yet to make a deposit, you may still play the free bingo games but you will receive your winnings as a bonus. I know where I'll be on V-Day.

Since I was already there checking out the upcoming offers, I decided to play a few games of bingo. I took a look at the 90 ball rooms and the prizes were a little low. There were quite a few minutes until game time so I figured that would explain the low prizes. Players hadn't purchased tickets yet. You know how it goes. We all cram into the bingo room at the very last minute and buy our bingo cards.

I hit the slots instead to pass the time. I played the X Factor slot and did terrible. It's amazing how much cash you can lose while waiting 5 minutes for a bingo game to start. The bingo prizes had increased and I jumped in to purchase my bingo tickets.

After several 90 ball games I had managed to win back what I had lost on the slots. It seemed that breaking out even was the best thing I could do and that's a win in my book. I'd say the bingo rooms definitely showed me some love.