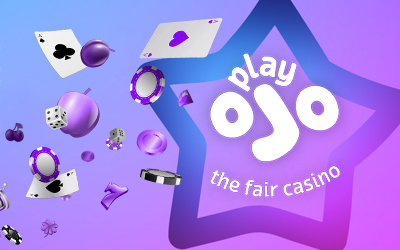 You're guaranteed a great time over at PlayOJO Bingo – the home of wager-free promotions, perks and bonuses. And you know what else you're guaranteed? Never having to worry about cashing out your winnings, nor will you find small print stating you can only win a maximum amount of money either.
Plus, cashback flows instantly with no strings attached either! As soon as you buy your bingo tickets, 10% is credited back to your real money bankroll instantly and can be used to buy more tickets or to play any of the hundreds and hundreds of casino games offered!
Talking of which, the choice of games is…
…even bigger today than it was yesterday all thanks to new gaming titles being launched. The new and improved Eye of Horus title with its Jackpot King progressive jackpot is just one and the futuristic Nitropolis release by Elk is another, but we're here to talk about the bingo promotions, so without further ado, let's get on!
Dab and Cash Grab
To kick things off, PlayOJO Bingo are randomly dropping free bingo tickets into player's accounts each day between now and the 20th of the month, that's means there's a bingo ticket prize pool of 5,000 tickets, all waiting to find a new home! Providing you've made a deposit (via any payment method) within the last 7-days and you've spent £1 on any of the days, you will be guaranteed an equal share of that prize pool!
In celebration of Black Friday, five days of prize-enhanced bingo games will be taking pace between 23rd and the 27th with full houses guaranteed to pay out £1,000 for just 5p a ticket. From 23rd to the 29th, roll-on bingo will be introduced for the first time-ever… once the full house is won, the balls keep being drawn until more full house winners are produced! How impressive is that? Oh, and if you love this type of promotion, you'll love what's coming next!
Ten grand – yes, £10,000 in cold hard cash has been set aside for November 28th when PlayOJO will host a roll into winter bingo game special. When it's freezing outside, heat up your bankroll with a one-line, two line and full house prize of £1,000, £2,000 and £5,000 respectively! If you've been counting, that's only £8K, so where's the other £2K? The remaining two thousand pound will be reserved for two additional prizes – two roll-on full house winners who each win £1K each, unless they share that is!
PlayOJO also guarantee bargain bingo fun in the disco room on a daily basis! A couple of pence could see you win a share of £4K between 3pm and 7pm for matching the stated pattern. And, there are daily kickers where more value for money guaranteed with bonus spins deposit deals, bingo bonuses – with no string attached, tournaments (leader-board specials) and much more! You'll even find deals when it comes to the live card games too!
Kayleigh39