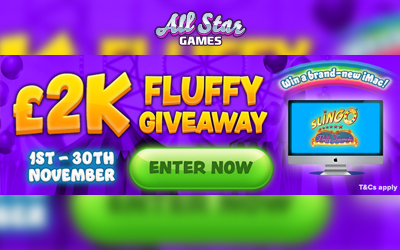 When it comes to seeing pink elephants, it's usually a euphemism for being in a state of drunken hallucination, but we guarantee you'll be seeing pink elephants soon enough and that's without having a sip of the good stuff! There's a new game in bingo town and despite being very familiar by name, it's very different to what you're probably used to.
Slingo Fluffy Favourites is the latest title to drop thanks to a collaboration between Gaming Realms and Eyecon; a game which combines both the fun of spinning the reels of a slot machine and the fun of playing online bingo. There are lines and a full house to be won in each game as well as different bonus games, and for playing, you could win a £2k Apple iMac or a wad of cash. But more on that a little later.
Mark Segal, Chief Financial Officer of Gaming Realms couldn't wait to tell us all of the new release: "This is a hugely exciting time for Slingo Originals and we're honoured to be working with such an iconic brand. We hope that fans of Slingo and the phenomenal Fluffy Favourites slot will enjoy this new collaboration, which will serve to bridge the gap and reinforce the compatibility of slot and bingo."
Paul Gielbert, Commercial Director at Eyecon added his excitement: "Fluffy Favourites continues to be one of the most popular game brandsin the market. By combining it with the successful Slingo game mechanic, this collaboration has produced a top game that Fluffy and Slingo fans are going to love."
Get Stuffed – With Cash
To win a 27" Apple iMac with Retina 5K display (whatever that is!), or the cash (£1,999), all you need to do is play Slingo Fluffy Favourites over at All Star Games in November! Every £10 wagered will earn you one entry into the prize draw and the rules state you can earn as many tickets as you like. The more entries into the pot, the more likely you are of winning, but just like a game of bingo; it only takes one ticket to win!
You've got the rules on how to win the promo, but now…
…you'll need the rules on how to play – if you're to win. First thing's first; your ticket price. Use the stake box to find an amount you're comfortable to play with, whether that be the bare minimum of 20p or the maximum of £25. Once you're happy, press the big pink spin button to initiate game play. Each spin has the potential to reveal five numbers, however, you could have free games, jokers and super jokers to assist you as well as a devil to block you.
Reaching five lines will award the first bonus; toybox pick bonus, with better bonuses awarded with the more lines you complete, and this means guarantee cash. The higher you climb, the better the bonuses and the bigger those cash prizes. If at the end of your plays you are close to winning (a bonus or cash), you may be offered to play on – but at a cost. It's a simple game bringing the bonuses from the original release and the fun of the fair into your living room. What's not to love?
Kayleigh39