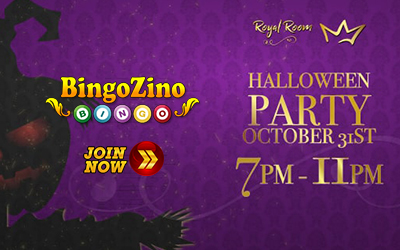 From October 14th to 31st, members of the renowned bingo network including sites like Bingo Zino, Bid Bingo, Chit Chat Bingo, and other glorious platforms will have a unique opportunity to join The Halloween Party and bag a tremendous collection of prizes!
The fun starts in the Royal Room at 7 PM and continues through 11 PM, so if you're comfortable with celebrating the spookiest holiday from the safety of your home, stick around and find out how to earn spins, loyalty points, gift cards, andother tangible rewards.
Are You An Early Comer?
In addition to the main programme, all chat games will payout a minimum of 250 loyalty points. The show kicks off with Trick or Treat, and to win a prize in this game you will have to select two numbers – one that represents your trick and the other your treat. In case both numbers are called, players must type "Trick or Treat" to win the prize.
So, if you always come first to parties, there is a good chance that you will walk away with a fancy reward, as this event starts exactly at 7 PM. However, a deposit in the last 14 days is necessary to win the main prize, otherwise participants will only receive 1,000 loyalty perks...
A Skeleton Surprise:
The party continues from 8 PM to 9 PM with an exclusive tournament – Pass The Skeleton. Don't worry, it's quite harmless! To start, each player in the room will be allocated a number. When bingo is called, a bone is removed from the skeleton to reveal a tangible prize. In case the number has not been allocated to a player, the reward will rollover to the next draw.
Read the full terms and conditions before participating and head to the promotions page to see additional rules.
Get Ready For Trivia:
From 9 PM to 9:30 PM the shop will host a Halloween Trivia, giving all players more chances to earn loyalty perks for answering correct on each question about the holiday. Afterwards, participants will play a short bingo game in which the numbers 31, 10 and 17 will bring the prize.
*Important note: The numbers probably stand for 31st October 2017, and we have a reason to believe it is an oversight.
At 10 PM, the player who wins the full-house will be awarded a £20 Amazon gift card.
Late Night Blowout:
Bingo Zino has buckets of treats for all participants who are eager to play from 10 PM to 11 PM or the last hour of the Halloween party. In this game, the full house numbers determine who gets the prize, so get ready and place a deposit between October 14th and 31st 2018. Best of luck!
Comment: This seems like a good promo and it covers the entire night! Prizes could've been better though, but in the end, it all comes down to good fun. Good luck!
By
Alex Hoffmann