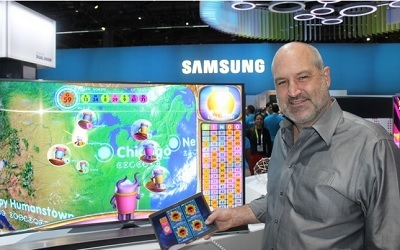 Playsino will be launching its Bingo Home product on Yahoo and Samsung smart TVs. Bingo Home is a game based on the DreamWorks animated movie, Home.
"It's designed to be a family-friendly game," Playsino chief Alex Kelly said. "You can all have a second-screen experience. It's a fun angle."
Playsino will gain some good exposure with as a result of the deal and its connection to Home featuring the voices of Rihanna, Jim Parsons, Jennifer Lopez, and Steve Martin.
Playsino is a small company with fewer than 20 employees and is known for Bingo World, Bingo USA, Holiday Bingo, Playsino Poker, and Solitaire and Prizes.
Bingo Home will launch on February 1st prior to the movie showing on March 27th.
Bingo Home's game mode is much like Playsino's existing bingo games taking players through themed rooms to collect items and receive power-ups to boost the performance.
An additional race mode plays across two screens in which players connect devices to a television and may compete against as many as ten players on their mobile device. With devices connected to the TV, players' ships move forward using bingo cards on their devices. Power-ups can move players along faster while others can slow down competitors.
By
Glo Wood