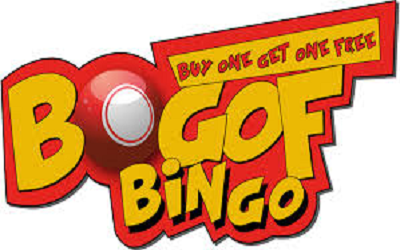 BOGOF, around since 2009, may have you all wondering what took us so long to get this site on board. Alright, so we are guilty of dropping the ball, err, bingo ball on this one, but at last, it's here!

With a name that suggests an element of "free" how can any bingo fan go wrong, right? One of the perks that is especially nice is the promotional scheme layout. Providing players with some juicy incentives nearly every day of the week is mighty enticing.

Catch bargain prices on tickets on Thursdays and Super Sundays are awesome with the £5 bingo bonuses.

Spinners will enjoy hot slot titles with Pink Panther, Iron Man and Mafia Millions just to name a few. Playtech software powers the slot library leaving no doubt of the quality of these one arm bandits.

And what online site would be complete if it didn't offer free bingo. BOGOF won't leave players in a lurch there with a free room to try and capture something for nothing.

We like a bingo site that cares about players who want to stay within their budget. You'll get a nudge to stay on top of the promises you made to yourself by having the tools here to set parameters on your spending and stay within your fun allowance plan.

Now that we have piqued your interest there is one slight downside, not everyone is allowed access. In fact, there are only two regions, unfortunately. If you are from The United Kingdom or the Republic of Ireland you're in luck!

By
Ava Jackuard