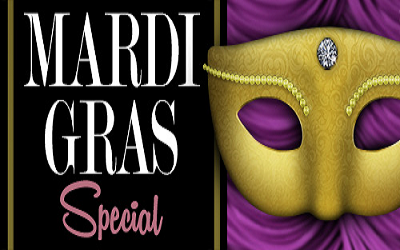 So many names, so many celebrations, so little time all on one day! February 28th, marks the annual event for Fat Tuesday, Mardi Gras and Paczki Day. That adds up to a whole lot of party time merriment.

Cyber Bingo never turns the other cheek when there is a day for celebration. It is definitely your "go to" site for many major and even smaller events you won't necessarily find anywhere else.

There is a Bingo Party going on that is Cyber's way to recognize Mardi Gras. What that means for you is fantastic bingo good times plus incentives that offer amazing cash prizes to be won players join the Mardi Gras exclusive.

When does all this excitement take place you ask? It begins at 3:00PM EST on Tuesday, February 28th in the Valentine's bingo room with an awesome mix of players favorite early bird, low-cost games. Now here is the best part, are you sitting down folks? Prizes awarded are up to $2,500 for every game and it won't break your purse strings with a purchase price of $0.25 a card.

Don't be left out on Mardi Gras and join your roomies for loads of party time action. Purchase your tickets in advance and it is the ideal way to get the Mardi Gras party started early.

Games:

$150 Guaranteed pots

$25 starting games

$2,500 Coverall Min $25 games

These enticing games will play in rotation during the two hour special, making Mardi Gras Bingo a not only a fun event but lucrative too.

That's not all because there is more:

You'll have more opportunities to be a with a fabulous Buy 3 Get 2 Free offer on all cards. All you have to do to get in on this deal is select 5 cards and only pay for 3 in the Mardi Gras spectacular!
By
Ava Jackuard