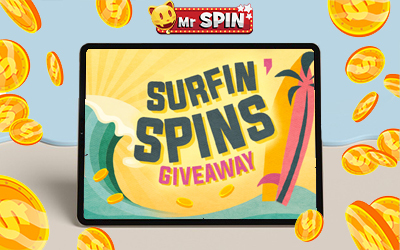 We're back with news from Mr Spin once again to tell you about a brilliant new promotion that's designed to keep the fun going – the Surfin' Spins Giveaway, and it guarantees there to be 777 winners of either bonus spins or cash! Forget competing against your fellow players to land a spot on the leader-board, because this one is as easy as depositing just £10 and playing your favourite games!
You've got until the end of the month to get your name into the random prize draw and to make it even fairer, there will be strictly one entry per person. I've read the small print, and nowhere does it encourage players to spend more for a better chance of winning, which is great!
Entering is as easy as 1, 2, 3;
Log in to Mr Spin (or sign up for other offers!)
Deposit just £10 via any of the many accepted payment methods
Play your £10 on any of the many slot games, including the new Shamrock Holmes!
If it's your very first time at Mr Spin, you'll be welcomed with up to 50b onus spins – no deposit required! Once claimed, you can try your luck in the game of the month titles, where even more no deposit spins can be claimed, plus, when you're ready to fund your account, you will receive a 100% bonus!
Surf in a Spinning Win
At the end of the promotion, a total of 704 players will be chosen at random to win some bonus spins, and we're not just talking ten here or there, we're talking up to 1000 spins! Any win of more than 100 spins will be awarded over a period of consecutive days for even more fun! Will you be lucky enough to walk away with one of the many prizes? We hope so!
3x 1000 bonus spins
4x 500 bonus spins
12x 250 bonus spins
25x 200 bonus spins
70x 100 bonus spins
200x 75 bonus spins
90x 50 bonus spins
150x 40 bonus spins
150x 30 bonus spins
Mr Spin is dishing out £3,000 in cash too, £3K of real money prize with no wagering, no strings attached and no catches! If your name is drawn out of the hat to win one of the following cash prizes, you can either choose to play on with it (there are so many different games to choose from, including roulette variants!) or you can make a withdrawal request!
2x £200
2x £150
3x £100
4x £50
8x £30
10x £25
12x £20
32x £10
Looking to top up your bankroll? Give a pal a 'wave' and invite them to play at Mr Spin to receive a £5 bonus as well as a bonus worth 50% of their very first deposit! Oh, one last thing before I go make a cuppa; every single slot game featured in the promo is linked to a progressive jackpot of more than £221K, and it can go at any time! Good luck!
Kayleigh39