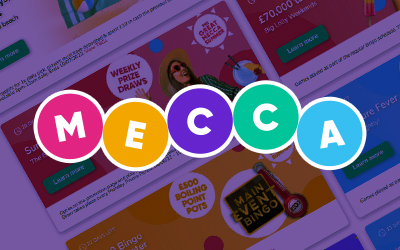 No Deposit Way to Win Amazing Prizes
Get ready to feast your eyes on one of the hottest bingo promotions of the summer. Mecca Bingo are turning up the heat with their "Great Mecca Summer Giveaway" by guaranteeing to produce 75 winners of top prizes every week! From hot tubs to holidays, concerts to garden furniture, BBQ's to Amazon vouchers, you have the chance to win some epic prizes right up until mid-July. How does it work? Stick with it us we're about to reveal everything there is to know about this exclusive, exciting, and unrivalled online bingo promotion!
Temperatures Are Set to Soar
To be one of 75 winners every week, log in daily and take those wheels for a spin. The no deposit wheel is available between midday and midnight daily. The premium feature is awarded the day after a £10 deposit and spend (between 2pm and midnight), and it guarantees a win. The prizes on the wheels/pick and click feature include bingo bonuses, games bonuses, cash, prize draw entries and physical prizes. Any prize won via a spin or pick and click reveal will be awarded instantly.
The Prize Draw Prizes: Gathering prize draw entries gives you the chance to win a prize from five different prize levels every week. The top prize is a £1,500 holiday voucher, which is enough funds to go skiing, to relax on a beach or to simply use on a luxury staycation. Winners of this prize also have the chance to swap its value for an Amazon voucher.
Level 2 Prize: £500 Holiday Voucher (or Amazon voucher)
Level 3 Prizes: Merlin Pass (theme parks and theme parks stays), theatre voucher, concert weekend or £250 Amazon voucher
Level 4 Prizes: BBQ, garden furniture, hot tub or an Amazon or takeaway voucher
Level 5 Prizes: Slots or bingo bonuses.
Opt-in is required and you can keep up with the latest winners via the special prize hub page on the Mecca Bingo website.
More red-hot prizes are guaranteed in the lots of lolly weekends this June with prize money of…
…£70K guaranteed to be won! The main event bingo room will be hosting boosted prize pot events with cash for players who can't quite manage to call a full house. On Fridays, £27,850 is guaranteed with 8 x £1K bingo games on the hour and half-past the hour and a £4K game at 10:30pm. Saturdays and Sundays guarantee £21K with 5 x £1K games, 5 x £500 games plus a £4K game at 10:30pm. There will be 500 winners produced every night of this promotion!
New players offer: Sign up, deposit, and spend £10 to trigger a spin of the Mecca Bingo welcome wheel. Offers on the wheel include bonus spins, free bingo, games bonuses and a combination of all three. Top prize is £120 in combined bonuses. There is no option to lose on the wheel and some prizes have no wagering requirements.
Kayleigh39