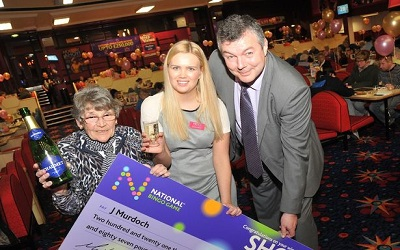 The Mirror.co.uk reported the story of a truly amazing bingo win. The winner was a 73-year-old woman called Jean Murdoch.
While playing in a national link bingo game at a Mecca Bingo club, Murdoch called for the house thinking she had won £100 but instead she was the recipient of a £221,000 check.
She followed her huge win by putting a pound into a Slot turning it into £300.
Regarding her winning streak, Murdoch said, "I wasn't paying much attention when my numbers came up, so I thought I'd won £100.
"When I was eventually told I'd won the jackpot, I was a wee bit shocked, to say the least. It didn't sink in and it still hasn't. It must have been my lucky day."
The big was a result of calling the house within 40 numbers for the in-club jackpot and she also happened to call on her Lucky Star number.
"I go to the bingo at least twice a week with friends but, the day I won, I was on my own. The most I've ever won over the years is about £500 so all my pals at the bingo are delighted for me", Murdoch said.
By
Glo Wood