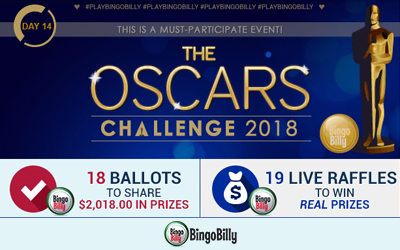 The Academy Awards are drawing nearer – and with everything going on in Hollywood in the past year or so, it is expected that this year's event will be among the most watched ones. As the Oscars ceremony day is coming fast (March 5th), Bingo Billy's own celebration of all things Oscar is in its final stages.
This glamorous promo takes place until March 4th with the grand finale event scheduled for March 5th. The $2,018 Oscars Challenge is a simple affair. All registered members who have made at least one deposit in February can win entries for the prize draw. Every day, players should login and look for the Oscar Challenge link where they will submit their pick of the day and try to make at least 9 correct predictions. The final draw at 8 PM on March 5th will be broadcasted live on Facebook and will coincide with the Academy Awards ceremony.
The luckiest and most successful player of the evening will take home the grand prize of $1,018. Places 2 – 4 will also win lucrative cash prizes, while 4th to 17th will win a range of prizes from $25 to $50. There will also be daily Facebook Live Raffles that will be giving away Samsung 49-inch 4K LED TV – players simply need to opt in on the Facebook Live Raffles page at least one day before the raffle on March 5th.
Those who have failed to register with Bingo Billy so far now have the perfect excuse, plus will collect a $30 bonus up to 600% at signup.
Take a moment to opt in for this great promotion and we at NDB wish you the best of luck!
By
Andrej Vidovic