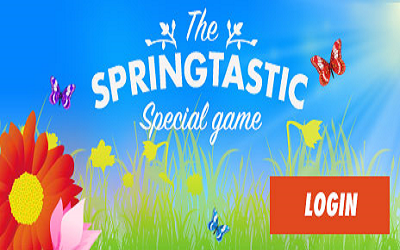 Springtime is for many the most favorite season of the year. After a long dreary winter, it is a welcoming change. As the weather warms up, buds begin to grow, flowers bloom and grass turns green, it puts us all in a better mood.

Daylight savings time means we lose an hour on the clock as we spring forward but we gain a lot more sunshine during our days. Nature embraces its surroundings as birds begin to sing lovely melodies, caterpillars turn into butterflies and lady bugs who land on our shoulder is a symbol of good luck.

There is just one more fantastic thing about spring that puts the bingo community in a tizzy of anticipation……..what kind of promotional goodies are going to spring up.

JackpotJoy hasn't wasted any time in bringing players excitement in the month of March. There are lots of exclusive offers happening and one of the biggest events is to commemorate Spring!

The Springtastic Special Game gives players a chance to win prize pool share valued at £13,000. Mark your calendar for this fun event on Friday March 25th, 2016 folks.

Here is the payout breakdown of the 90 ball Bingo game:

· Full House: £10,000

· 2 Lines: £2,000

· 1 Line: £1,000

This exclusive game starts promptly at 9:45pm (21:45 (GMT) and tickets cost only 50p each. To participate simply click on the Special Game tab in the lobby where you can also purchase your bingo tickets in advance.

The room to this Spring special will open just one half hour before the game begins. Make sure to put an extra spring in your step and get there early. While you are counting down the days, minutes and hours there are other great specials to enjoy too.

Hmm….did I mention the Over the Rainbow Riches Slot? Well…since St. Patrick's Day is almost here it a perfect way to get in the mood with £100,000 in prizes up for grabs. It is already in full swing with an opportunity to scoop up a Guaranteed share of……are you ready……. £100,000!

To jump in on this Irish loving action simply play £30 on Rainbow Riches on any one day between Friday 11th (00:01) and Thursday 17th March (23:59) to earn a guaranteed share of £100,000.

Wow now that might be more amazing than the Spring game! Hey, know what they say save the best for last right?
By
Ava Jackuard