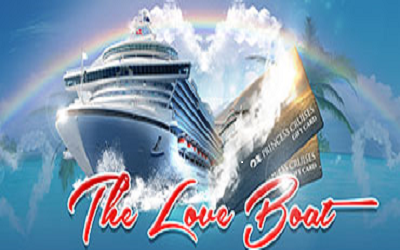 Who remembers that popular television series The Love Boat from 1977 – 1987? And who could forget the theme song:

Love, exciting and new
Come aboard. We're expecting you.
Love, life's sweetest reward.
Let it flow, it floats back to you.

The Love Boat soon will be making another run
The Love Boat promises something for everyone
Set a course for adventure, your mind on a new romance.

And love won't hurt anymore
It's an open smile on a friendly shore.
It's love!
Welcome aboard
It's love!

Bingo Hall celebrates this classic hit show with a fantastic promotional offer perfect for February, the month of love and Valentine's Day. Win a dream cruise in a Bingo Tournament that runs all month long from February 1st to February 28th.

Here is how the Tournament works:

Collect as many points as you can which is simply by playing all of your favorite games every week from Monday to Saturday. Players will receive 1 tournament point for every $1 wagered on bingo and 1 point for every $10 wagered on the slots.

The top 5 players will win the following prizes:

· 1st place $500 BONUS

· 2nd place $400 BONUS

· 3rd place $300 BONUS

· 4th place: $200 BONUS

· 5th place: $100 BONUS

Then THE GREAT SUNDAY FINALE will take place:

The top five players each week will move on and progress to the Finale on Sunday from 5PM - 9PM EST to battle it out for the grand Love Boat Prize. The prize will be sent via e-mail as a Princess Cruises Digital Gift Card valued $2,000.

This Gift Card has no expiration date and will be sent to you already activated so that the card is available to use anytime. The Princess Cruises Gift Card is pre-paid and can be used as payment towards your cruise booking or towards your onboard spending account.

Be a part of February Month of Love contest at Bingo Hall and you may just set sail on the Love Boat cruise.
By
Ava Jackuard