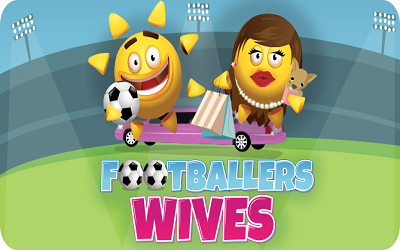 The Month of May is here and the girls know what that means. While the boys are busy with FA Cup Final and the Championship final wives are ignored and left out in the cold! Nothing can pry your man from the television.

Ladies have tried all the tricks from putting sexy lingerie and promenading in front of the tube to having a downright hissy fit to no avail. Throwing yourself on the couch, pouting and going on a cooking strike doesn't faze the boys as they dial up take away and settle in for the games.

You could go shopping and rack up the charge card, go out drinking with the girls or knit that sweater you have promised Aunt Sarah for two years now. Then like a lightning bolt that clunks you on the noggin it strikes you and suddenly visions of sunny days are ahead. Who needs a man anyway when there is Costa Bingo.

The sun is always shining at this online bingo site with no room for dark, cloudy miserable May days of feeling dumped like yesterday's newspaper! Sunny understands and girls unite in a bingo kick off to their own month of May entertainment.

Costa Bingo's Footballers Wives promotion is where the action begins ladies. Men……bah-humbug who needs them! There are tons of prizes awarded including what every lady loves best designer gifts.

Every Saturday night in May fire up your laptop in the other room at 8pm sharp and join the Bingo community in a fun filled evening. The 4th of May has already passed us up and we missed out on the Ray Ban Avatar shades but have no fear there is three more weeks left.

On Saturday 11th there is a Ted Baker designer handbag waiting to be won. Card prices are super-duper cheap at 1p each. This purse is in hot hot pink ladies and has a quilted texture that screams sexy and rich. Did you ever imagine getting anything designer for one penny?

18th of May is still cheapo tickets at 2p each with £300 Debenhams Vouchers. Get yourself a brand new wardrobe for the summer months ahead and go out in style girls. Or if you prefer get a total makeover for your home or a makeup kit to make that face of yours more gorgeous than it already is.

And on Saturday the 18th, for a mere 5p per card you could win a fantastic iPhone 5. Surf the net, download apps and socialize on Facebook all in the palm of your hand!

When the football game is over he might have to try a few tricks to divert you bingo game. Let's just hope he doesn't come out bare chested in speedos!