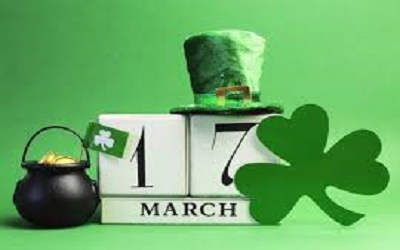 With St. Patrick's Day Tuesday March 17th right around the corner it is a time for wearing green, drinking Irish whiskey and of course good luck. Every player jumps in on the Irish luck action because after all we are all Irish on this special day!
The big question is where did the phrase and concept of Irish luck come from? It is an age old question that is really a subject of debate. It all depends on who you ask because there are many theories.
Here is a list of some beliefs as to how "Luck of the Irish" originated:
· Due to the tragedies faced in Ireland many people had to flee Ireland in hope of finding a better life. They struggled and worked hard with the sheer determination to succeed. Native Americans were not accepting of the Irish settlers and felt their good fortune was attributed to luck and not hard work.
· "Luck of the Irish" actually means the opposite of what people think. It depicts the tragic history and sadness the people of Ireland endured. Having to leave their homeland was unfortunately a very unlucky fate as they left behind family they would never see again. As a result the night before leaving the family would hold a funeral of sorts because they would never see them again.
· The phrase originated in the United States and represented how the Irish found their Pot of Gold in the gold and silver mines. It was a matter of being in the right place at the right time which is pure luck.
Are the Irish lucky or unlucky? Perhaps it is a bit of both as some struggled and perished while others were strong and had the perseverance to survive.
On St Patrick's Day past, present and future the focus is on the "Luck of the Irish". It is the one time of year to really test your luck and pull the handle on the Slots, dab your Bingo cards, roll the dice at the crap table, watch the wheel spin on Roulette, play Blackjack or scratch off that winning Instant ticket.
There was a time when being Irish wasn't so fortunate for many that suffered. But in good old fashion style the Irish are a strong lot and don't see the glass half empty but rather half full. It is that type of mentality that nourishes the soul and is the type of thought process that only the lucky at heart can believe in.
By
Ava Jackuard