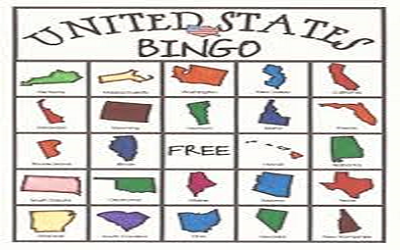 The Roaring Twenties era of flappers, prohibition, bootleggers, marathon dancers and yes Bingo. It was Hugh J. Ward that introduced Bingo at carnivals in Pennsylvania in the 1920's, penning a rules book in 1933. But it wasn't until Edwin Lowe discovered it in 1929 and placed it on the US map.

Lowe, a toy merchandiser visited a traveling carnival near Atlanta, Georgia and saw a group engaged in a game called "Beano". The game consisted of dried beans to cover the numbers spaces on a cardboard sheet. Perfecting the game, Lowe created two sets including 12 cards and 24 cards and by the 1940's took the country by storm.

Bingo found a new venue and became the primary home in churches and bingo halls. One of the Bonuses of Bingo is how instrumental it has been in helping church and charitable organizations from a percentage of proceeds.

Bingo is played on a card consisting of 5 rows, each column spells out a letter B-I-N-G-O. In the center of the card is a Free Space under the letter N. Standard 75 ball Bingo declares a winner by filling in an entire row horizontal, vertical or diagonal.

Fun patterns were introduced for a more varied way to win. These clever patterns took on fun shapes and themes creating a more challenging and rewarding way to win. The largest Jackpot game is the Coverall where all numbers on the card are covered to claim a Bingo.

Online Bingo emerged in the 1990's and quickly popularized the game more than ever. Convenience was and is the primary attraction allowing players to play from the comfort of their home.

Other Bingo variations introduce a new world to the US player with 90 ball, 80 ball and 30 ball bingo. Promotions for Free No Deposit Bonuses, Deposit Bonuses, Tournaments and special games including 1TG/2TG and Chat Games reward players with extra incentives.

Today online Bingo has expanded to a broader platform including Slots, Video Poker, Table Games and Scratch Cards. It opens the door to real Vegas style games giving players an alternative between Bingo play.

If the past is any indication of the future, Bingo will flourish and its eternal flame of passion and entertainment value will never die out. As we forge forward technology has taken us on a path of unbelievable wonderment. One hundred years from now players will marvel at the antiquated way we play just like we do when looking back to the 1920's.

By
Ava Jackuard