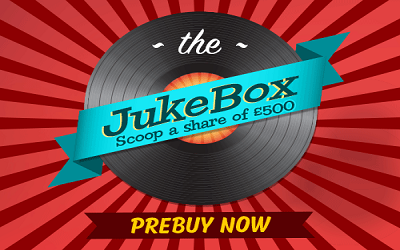 Say farewell to 2016 as we ring in the new year with a robust enthusiasm. It is always nice to start out on a clean slate. It is like blank pages in a 12-chapter long novel that will fill up day by day.
It is really a new beginning and making every single day count is important. As a bingo player, there are some changes to make that might be beneficial in giving me that extra winning edge! Not like I am going to pretend there is some miracle strategy guaranteeing wins just playing my cards right this year would be an improvement. Mainly better budgeting and limiting the number of days a week to play are the main essentials.
Next scouting out the best online bingo sites to play is imperative to quality time spent on my hard-earned cash. Being a music lover one site that caught my eye is was Bingo Extra.
The vinyl record and Juke Box name called my attention so I had to investigate a bit further. What's even better is the promotion behind this fun looking campaign. Put on your favorite music every Saturday and jam dance in your chair at 9:30pm.
There is £500 up for grabs:
£250 for Full House
£150 for 2 line
£100 for 1 line
Card price for the game cost 10p. Order your tickets in advance for this 90 Ball weekend event. Get on your high heel sneakers ladies and guys get rocking with your blue suede shoes. By
Ava Jackuard