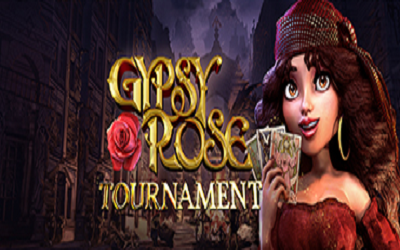 If only we had a crystal ball that would accurately tell us what the future will hold for 2017. To be able to explore the exciting things that will happen and avoid the pitfalls would be great in controlling our destiny. This month at Bingo for Money, the first tournament of the year is taking place right now. And guess what themed slot is showcased - Gypsy Rose and her crystal ball!

Developed by BetSoft, the software went all out with this colorful 3D animation that brightens up the screen in an explosion of colors. Gypsy is the beautiful fortune-teller clad in her hoop earrings, sparkling bandanna and off the shoulder sexy dress. Land the pick'em game and get your fortune told by Gypsy. There are other perks including extra wilds and free spins.

The symbols on the reels including crow, crystal ball, love potion, ancient book and deck of card symbols. Every time a player hits a winning combination they will experience the animations in their splendid fullest. Rose is quite a character herself as she chuckles and dances in her own special way to celebrate wins.

This special tournament featuring Gypsy Rose has already begun from January 3 to January 15 but no worries there is still plenty of time to snare a prize!

A whopping $5000 in CASH is waiting to be won. Spin your way to a piece of this enormous prize. There are 3 place winners including:


1st place – 5,000
2nd place - $2,500
3rd place - $1,000

Collect 1 tournament point for every $10 wagered to be in the running for this exciting contest.
By
Ava Jackuard