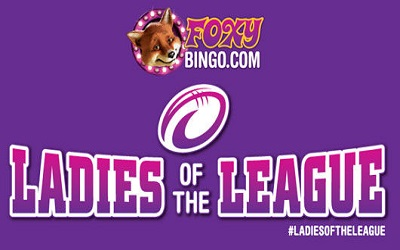 Foxy Bingo honors the ladies of rugby and announced Mandy Ibbison as this year's Foxy Bingo Ladies of the League winner.

The rugby league coach from Wigan St. Patricks ALRFC was approached by Wigan Warriors captain, Sean O'Loughlin and half-back, George Williams as they shocked her with the news.

The program was designed to place the spotlight on women who show devotion to both their clubs and communities.

David Ibbison, Mandy's husband and nominator, said, "She always goes the extra mile and never asks for anything, just like thousands of volunteers across rugby league that all deserve a medal."

Sean O'Loughlin said, "Foxy Bingo's Ladies of the League is a great award to acknowledge some of the really talented women involved in our sport."

"Ending up in the final 10 and then winning has left me speechless. Everyone who knows me, knows this rarely happens! I'm so glad that women in our sport are being recognised by this award. I am humbled but extremely proud to receive this", said the winner.
By
Glo Wood