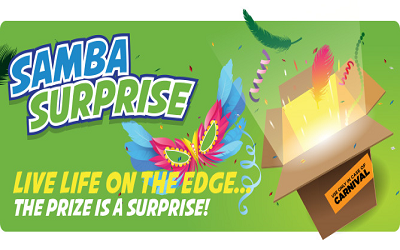 It's time to Samba at Rio Bingo. That's right it is one Brazil's hottest dances and even if you have two left feet you will keep in 2/4 tempo.
Rio Bingo keeps in tradition with the lively culture in a samba expression that is filled with distinct rhythms. To celebrate players are invited to live life on the edge where the prize is a surprise!
The Samba surprise leaves you clueless because who knows what is going to happen next.
It all takes place in the daily games where players are left in the dark as to what the prize or ticket price is until the end of the previous game.
We'll leave you in on a little secret, some of the goodies that might come your way include:
· Real cash
· Bonus cash
· Rio Points
· Tangible prizes
Play in the Bingo room every hour between 9:15 – 5:15pm and then every half hour until 11:45pm.
A few things you should know about this contest are: all prizes must be claimed within a 3 week period, prizes are shipped to UK only otherwise a cash alternative is awarded. All cash prizes will be credited after the game has been completed.
By
Ava Jackuard