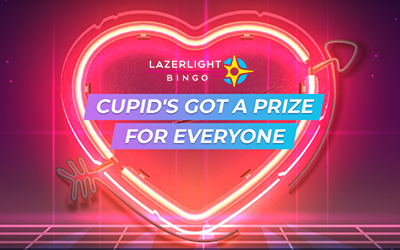 What you up to Valentine's Day? Anything special? I'll be doing the same thing I do every year; eating my entire body weight in treats whilst watching movie after movie. For me, February 14th is just another day, but for many, it's a day full of romantic gestures and surprises.
If you're planning to surprise your loved one(s) with a fancy slap-up meal or a trip away somewhere special, you best get your alibi sorted. Just kidding. If you're single and not planning on doing anything special or maybe you are in a loving relationship but do go in for all that red roses and wine palaver, why not let cupid take care of you this February…
…Feeling lucky punk? Lazerlight Bingo is here to give you more than just a warm and fuzzy feeling. They're the latest online bingo site to deliver what players really want; lots of bingo rooms, plenty of free bingo, a variety of games stretching from slots to instant wins and of course, big winning opportunities.
Arrowing Stuff
Cupid is getting ready to aim with his bow and arrow and we guarantee you that everyone is going to be struck with his love rod (don't be naughty!). The upcoming bingo game is packed with so much cash that even the losers will be winners.
Where else will you be guaranteed a win for just 10p a ticket? It's not an easy question that one, but Lazerlight Bingo is pulling out all the stops with this latest promotion.
Before you can join in with the fun, you will need to be a member. Come on guys, you know how this works by now. You can't just open up a bingo site and expect to play without filling in your details. The rewards for doing just that here are great. Make a deposit of just £10 and receive a bonus bundle worth up to £500!
A 200% bingo bonus, 50 bonus spins on one of their most popular titles (my guess is it will be the deep-space thriller by NetEnt – Starburst) plus a shot at winning on their exclusive 'Lazerlight bonus game.' Think 'Jack be nimble, Jack be quick' with this one though, because the clock is ticking…
…Can you beat the clock to win big bingo bonuses? You'll have 40-seconds to play the yes or no game; hit yes if the numbers on your card or no if it isn't. Des O'Connor would be rolling in his gave with this one; it's hardly 'Take Your Pick', but it's still great fun!
Now, where was I? Oh yes. Everyone is to be a winner on Friday 14th in the £2K bingo game special. There are prizes of between £200 and £500 for one-line, two-lines and full house winners as well as a runner up pot of £1K. that's right, everyone will win a slice of the action, even if you only have one 10p ticket into the game.
Will you RSVP to Cupid's £2K game this Valentine's?
Kayleigh39