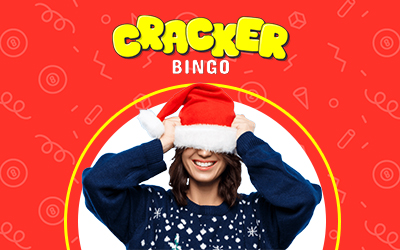 Getting a new online bingo to complement our ever-growing roster of sites is always a good cause for celebration. The large network of sites on Dragonfish network and under the command of Cassava Enterprizes has grown by another name – Cracker Bingo!
A Fine Pedigree:
This just launched site is a sister site to some of the most well-established bingo brands in the industry: Queen Bee, Blighty, Hunky and Dabber Bingo. These brands should certainly ring a bell if you're half the freak we are for playing bingo online!
Such a strong legacy comes with certain expectations and responsibilities, and fortunately, Cracker Bingo does not fall short of them – in fact it takes some of the traits of the aforementioned sites and elevates them to a next level.
The review for this site can read on the designated page for that (see the very first link in this article), but for those of you without that amount of time on hands, we'll gladly summarize the experience here.
Proving That Loyalty is a Virtue:
The first thing to note is that this bingo site offers a rather modest amount of promotions – but the ones they do, like the welcome offer on a first deposit, come with no wagering requirements on extra spins and bingo tickets!
A huge perk right there and then already, but let's keep going. Depositing for the first time puts you in a driving seat for attaining higher levels of loyalty plan. The rewards program here is characterized by two thing: first, it features 15 awesome levels filled with stuff like gifts, cashbacks, exclusive jackpots, VIP managers and so on...
...and second: no matter how high you fly, you can't come crashing down because, unlike so many other bingo sites, your VIP level won't be downgraded in case of inactivity, so you don't have to fear starting from scratch!
Withdraw All You Want:
Another blessing all registered players can enjoy is that the site enforces no limits on cashouts – pretty relieving, especially when added that the least amount one can deposit and withdraw is £5, which is quite favorable since most websites do not allow anything below £10 at least.
Hoping for that grand score? Well you're in luck, because big jackpot games are played regularly, twice a week – and even though you won't find any table games here, a decent collection of video slots should sate your thirst for something other than bingo (which comes in 75-ball and 90-ball variety, by the way).
Cracker Bingo is here – so go check it out for yourselves, no need to rely on our input, no matter how reliable it is (and it is!). However, before you make some big decisions, take 10 minutes of your time to read through their terms and conditions – it may be a nuisance, but it can be a useful nuisance, too.
Comment: Welcome, Cracker Bingo! Can't wait to explore what there is to find, play and enjoy.
By
Glo Wood