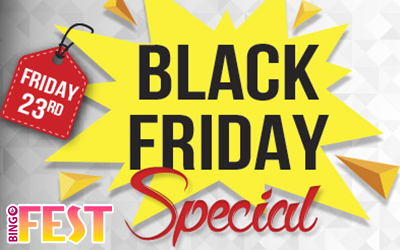 As November 23rd approaches – the infamous Black Friday, which really is just a day of extra shopping hype and mania despite its ominous name – most of us are preparing the funds for the hours of "shop 'till you drop." And while that may hold enough excitement to last a year, over at Bingo Fest, they're of a different opinion and are willing to bring some more!
Shopaholic:
The Black Friday Special promotion is happening on the very day – Friday, November 23rd – and it contains hours of bingo games and real cash prizes for the most skilled and luckiest involved.
The Special comes with a total prize fund that is very generous - $7,500! Games - which are played in Autumn Bingo room, begin at 8 PM EST and will be played on every hour - will be as follows:
$150 reverse coverall max $500 game
$7500 coverall minimum $75.00 game
$50.00 starting game
and $250 guaranteed game
Entry cards for these games cost $0.75 and if you Buy 3, you will get 2 for free!
Day Before and After:
Apart from the Black Friday Special, this online bingo site hosts two big promotions the day before and the day after this...
...On Thursday, November 22nd, there is the Thanksgiving Bingo which comes with a prize fund of $2,500. The games for this begin at 6 PM EST. There are total of five games beginning at every hour (6, 7, 8, 9 and 10 PM) and each game has a prize of $500.
On Saturday, November 24th, the biggest bingo event of the month is on air – after all the feasting and shopping, it's time to earn big during $13,000 Guaranteed Bingo event!
The Tourney Bingo room will be the place where games, starting at 7 PM sharp, will commence. Three games with guaranteed $1,000 cash prizes will make way for the central event of the evening – the main game with a $10,000 prize that kicks off at 10 PM. Entry card for the grand game will cost $5.
Watch out for even more tasty Black Friday and Thanksgiving promos because we at NDB we'll be bringing you a selection of finest late November offers in next week's edition of news!
Until then, remember that, even though all the sites we talk about in our articles are NDB approved and have our utmost trust, never forget to check for yourself if you agree with any given site's terms and conditions – which is why you should check the T&Cs in the case of Bingo Fest as well, before you give the promo a go. Have fun!
Comment: Neat! All the shopping I am planning to do on that day is online, so it's a lucky break that will allow me some time for bingo!
By
Andrej Vidovic