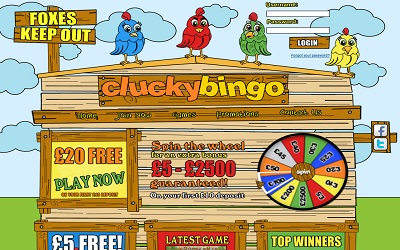 When I first heard of Clucky Bingo, I laughed at the name. The name made me think of practical jokes and fun. I had to check it out and see what made it so clucky. So there are absolutely no jokes. The home page launches and you are greeted by four chickens. Chickens! That's what puts the clucky in Clucky Bingo. As a chicken lover I couldn't wait to play.
In terms of bingo games, they've got 75-ball and 90-ball bingo and that's it. They've also got slot games and other goodies. The welcome bonus offers a deposit bonus plus a spin of the wheel. When you deposit you can spin the wheel which awards a bonus of anywhere from £10 to £2,500. I took a quick glance at the other promotional offers and there were loads of them from Friday night parties and takeaways to team bingo.
It was time to play a bit of bingo. I got in on a 75-ball game. There were something like 30 other players in the room but there was still action clucking through the air. I bought the maximum tickets and hardly made a dent in my bankroll. In fact, that's exactly what I love about bingo, you can play the biggest and best and not break the bank unlike slots which take your money which doesn't last nearly as long.
Anyway, back to bingo. I could tell that the pattern was going take quite a few numbers to achieve. I was so busy still looking around the site as the game began that I wasn't even paying attention to my cards. It was weird but it seemed that the more numbers that were called the worse things got for me. I'm not sure how that's possible but for me it sure seemed to be the way things were going.
Unfortunately, some days are like this. I had hoped to have at least one decent card, just one card with 1tg but instead near the end, the best I could do was get down to 3tg.
I have a number that haunts me and it's the number 24. If I'm ever down to that number 24, I know that I won't win. I can't recall when the bad luck started but I do know that it has been with me for quite a while. Of course #24 was one of the numbers I needed.
My luck was not so great but at least I had four happy chickens to make me chuckle.