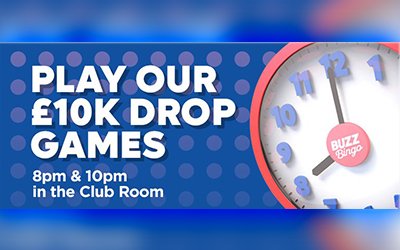 It's Raining Cash with Enhanced Full House Prize Pots
May and June are set to be scorchers with Buzz Bingo and their £10K drop games, that's ten grand in cash that is guaranteed to be won every single day – only online. As the 91 land-based bingo clubs gear themselves up to open on May 17th, with free teas/coffees and sausage/bacon breakfast rolls to those who turn up for the open day, online players are being offered two nightly bingo specials, each packed with £5K in wager-free cash!
Get Your Game On
How does it work? Between 8pm and 10pm each night in the club room, there will be two scheduled jackpot drops of five grand. Nobody knows when they'll go, but they're guaranteed to be won at some point during the two-hour session. One of the prizes is for the full house winner, a tidy lump sum of cash, while the remaining pot of cash will be shared between all players with a ticket into the jackpot drop game. You could call this kind of a community effort.
Will it rain big cash in your bankroll this May? It could, but only if you're playing in the club room between 8pm and 10pm during the qualifying period:
Monday 26th April – Sunday 2nd May
Monday 10th May – Sunday 16th May
Monday 24th May – Sunday 30th May
Monday 7th June – Sunday 13th June
Tickets will set you back just 20p each with a maximum of 120 tickets per player (per game). Plus, to add to the excitement, Buzz Bingo are promising two big money games every day on selected weeks, so instead of the usual £10K, there will be £20K up for grabs. When the jackpot drops, there will be one-line prizes of £50, two-line prize of £100 and a full house of £5K. Community jackpot winners will receive a share of the funds based on the number of tickets they had in play.
Bingo Recap
What else is happening over at Buzz Bingo this month? There is a prize draw to win a £2K tech bundle, but not just the one, but four! Entering is as easy as playing your favourite games, with one raffle entry awarded per £10 spent. Winners will be drawn from all qualifying entries on Monday 10th, 17th, 24th or May with the final winner being drawn on Tuesday June 1st. Prize list consists of:
MacBook Pro 13" 256GB SSD - Grey
iPhone XR 64GB in Black
iPad Air 64GB in Space Grey
If you are chosen as a lucky winner, you have 7-days to claim your prize, so best keep checking your emails!
One other thing before we shoot off to find the next best bingo offers…
…the new bonus spinner wheel is back with prizes of spins, tickets, bonuses and cash to be won each day. Deposit and stake £10 and receive a spin the following day. Don't forget to try your luck in the free bingo room either, where free cash can also be won 24/7!
Kayleigh39