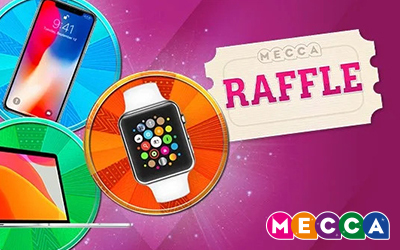 Chance to Win More Than Ever Before!
In this day and age, online bingo sites are having to adapt to survive. If they do nothing, they tend to get left behind and this inevitably leads to a loss in player numbers. Only, there's no risk of that happening with Mecca Bingo, thanks to their new bingo raffle invention! Of all the extraordinary bingo concepts over the years, I have to say this is by far the greatest as it allows players the chance to win more for very little effort!
The big raffle launched only last week with the highlight being 'win free bingo for a year' or one of 10 runner's up prizes of a bingo bonus worth £100 each, and the tickets for that one only cost 50p online! Each of the raffles can be entered for free via post, however, each entry requires a separate postcard. We'll give you the details on how to enter for free at the end of this page.
What's What and How to Win
Styled like a regular prize draw, Mecca Bingo is giving away amazing prizes through a series of draws but only if you're part of the bingo community. A registered account is needed and if entering online, you will need to have funds in your account to purchase your tickets. Prizes will change on a weekly basis and each of those will have minimum and maximum entry requirements as well as some runner's up prizes too. Interested? Why wouldn't you be?
This week, a fabulous line-up of prizes will be won, but only if your name is in the draw. Postal entries will need to be in by the closing date and written in English. Postcards for each draw are to be clearly marked with the draw in which you are entering along with the closing date of that draw. On the reverse, include your name, phone number and email address, making sure they match what you have registered online.
Prizes up for grabs this are as follows:
Win an Amazon voucher worth £250. Tickets are £1 each (max of 10). There will be ten additional prizes of a £20 bingo bonus in this draw too. Drawn on Tuesday 27th.
Win a Smeg coffee maker with Italian coffee. This prize is worth £450. Tickets are £1 each (max 10). Fifty runners up will receive 20 spins for the Aquatic adventure slot – Dolphin's Pearl Deluxe. Winnings from free games will be credited as cash with no wagering. Draw date is Wednesday 28th.
Win an 8th Generation Apple iPad or one of 50 bingo bonuses worth £10 for 50p a ticket (max 20). Draw date is Thursday 29th.
Win a luxury, 3-night getaway for 2 in the Lake District for just £1 a ticket (minimum of 2 required and max of 50). Prize includes return train fair, romantic meal at a high-end restaurant and tour and lunch aboard a boat on Lake Windermere. Draw date is Friday 30th.
Kayleigh39