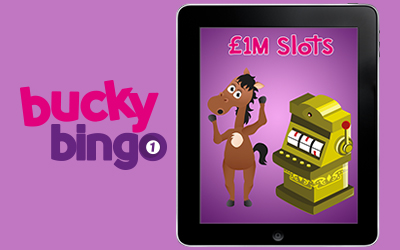 Some astounding news this week comes from the widely-beloved
Bucky Bingo
, which has decided to relaunch their legendary, annual £1M Slot tournaments! How it works is as follows: players need to register with the site and participate in qualifying games so that they can gain entry to the tournament itself. One ticket for taking part is won by depositing £10 and during the four weeks of the tournament, the website will be giving away rewards with a total value of £1M, with the most valuable prizes standing at £5000.
It's estimated that in one single week, there will be approximately 5000 prizes, ranging from £10 to £5000. It is also expected that a very large number of players will be participating in the event, with prizes shared among the winners. Probably the most enticing detail of all is that one person can win more than one prize, as 'winning is based on the amount of stakes wagered across qualifying slot games,' according to the site's terms. Lucky winners, selected in a random draw, will not have to wait very long for winnings to be deposited into their accounts: the site guarantees this will take no longer than two working days.
Each week, there will be specially designated slot games that you must take part in to qualify for the final draw. Visit the 'Promotions' page to check out which games will lead you on the road to glory during each week.
This awesome bingo tournament will last until October 26th, so hurry up and make sure you have your name in the final draw!
By
Nenad Ninic