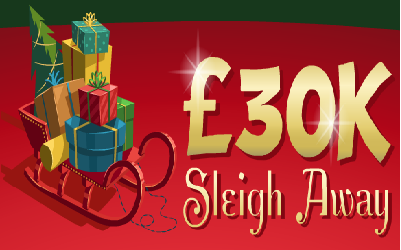 Alright, so some might think that it is a wee bit too early to think about Christmas, but maybe you'll have a change of heart when you see what kind of great exclusive Brits Bingo has!

Players will have a chance at an early start to the £30,000 Jackpot happening in the month of December from the 1st to 30th in the Sleigh Away room.

The Santa's Multi Pass Sale is on! Participants can get 30 tickets for 30 game for only £5. Take advantage of this great offer soon because the sale ends on November 30th. And time as we know sure does fly! If you wait to purchase tickets in the month of December they will go up £1 per game.

The Sleigh Away Jackpot promotion is set at £30k. That means ever game is valued at £1,000.

Here is the prize breakdown: Full House wins £300, 2 lines wins £250 and 1 line wins £200. That's not all because 1 to go players will split £150 and all 2 to go players will split £100. If there is more than one winner the prize will be divided accordingly.

If you are not a member of Brits Bingo now is a good time to register for an account. Once you have an account login and snap up a 150% extra on your first deposit plus another £10.
By
Ava Jackuard