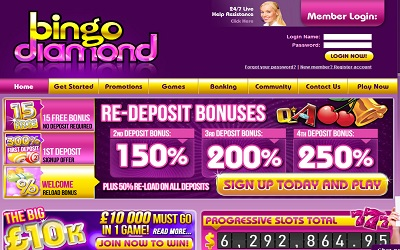 Why is that whenever I see the word "diamond" I can't help but think of the cliché that diamonds are a girl's best friend? I see Marilyn Monroe with diamonds draped all around her in the infamous pink gown. It's not enough just to imagine it but of course I've also got to sing the song!
The French are glad to die for love
They delight in fighting duels
But I prefer a man who lives
And gives expensive jewels.
A kiss on the hand
May be quite continental,
But diamonds are a girl's best friend.
Would you believe that just logging into Bingo Diamond inspired all that? Bingo Diamond features Microgaming software which happens to be one of favorites when it comes to slot games. They've developed a number of popular games from Avalon II to Batman and so many more. Although I enjoy playing bingo there, this visit was to play some slots!
As a Microgaming online bingo site The Big 10K promotion was running. The big game is scheduled this month on 31 May at 10pm and the prizes are fantastic. Players must buy at least two tickets at £1 each plus there's a card special where you buy six and get six free. Anyway, that is definitely on my calendar.
I love the medieval theme of Avalon 2. Almost immediately I hit the free spins bonus and the treasure chest wilds and the multiplier helped me to snag a win just over £280! I was thrilled but the win came so soon that I wasn't ready to quit playing yet. I continued on and it seemed that either this slot or I was on a roll. I hit 12 free spins again. Surely there was no way that I could hit another big win. My first 5 spins were duds and by the 9th spin things really started to pick up. By the end of the round I had added another £175 or so to my bankroll.
The payouts were really good during regular play as well. So good that I felt like I was personally invited to sit at the round table. My luck was definitely going to run out at some point so I made the decision to quit while I was ahead.
Overall I was up approximately £500 and at the price of diamonds it certainly wasn't enough to buy a significant gem. Hey, I could buy myself some little diamond stud earrings right? By
Glo Wood