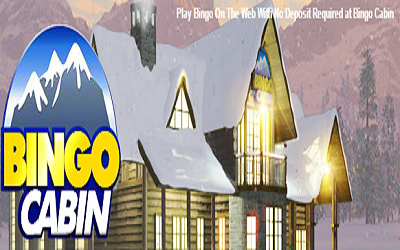 The homepage is a winter's delight that matches a well popular written song:

"Oh the weather outside is frightful

But the fire is so delightful

Since we've no place to go

Let it snow, let it snow, let it snow"

Cozy and warm inside your home is a private getaway that is all your own at Bingo Cabin. They have been working hard to build a bigger and better site that goes beyond mountain snowcaps, inviting picturesque snow covered cabins.

Open the doors to this cabin and you'll find several notable changes starting with the lobby. The tabs have been rearranged for Bingo, Slots and Casino while the Mini Games still remain in the Bingo rooms. The notice board is a great feature highlighting daily bonuses and any special exclusives.

Located at the top right hand side of your screen is where players will now find their balance. To view your BBs balance simply click on the Balance and the cash and BBs will both conveniently display. The Bonus Selector found underneath the deposit amount allows players to select a BBs Bonus, cash Bonus or none at all.

Promotions have moved and are no longer located in My Account. Instead head to the Promos and My Promos to see the latest offers. Across the top look for the tab What's On for all the promotions.

Players earn points as they play in the Loyalty program. What is really cool is a tracker feature that's at top of the lobby which shows your current reward level position, points earned and the Bonus you have currently built up.

Now you can personally customize your game inside the Bingo rooms. New features include Chat color selection, new emotions and fancy new daubers.

The new look definitely enhanced the appeal of the site taking it out of the antiquated style into a contemporary wonderland. Easier navigation makes it a much more user friendly and inviting site.

If you are not a member yet register an account and take full advantage of the Sign Up Offer with $30 Free to play Bingo and Slots. This offer is given in the form of Bingo Bucks and is the only time Slots are allowable to play. Please note that these BBs cannot be withdrawn are considered as a Free Trial offer. Make your first deposit and get spoiled with an attractive Bonus of 300%. Reload Bonuses are available on each every deposit thereafter.
By
Ava Jackuard