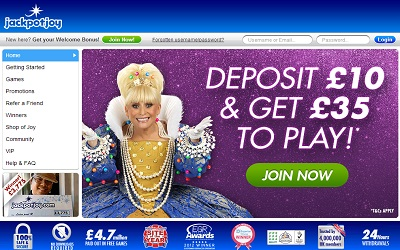 Whenever I play at Jackpotjoy Bingo I have the best time. I tend to go back from time to time and always struggle to decide whether I want to play bingo or slots. There's always something new happening there and it has been one of my go-to online bingo sites for several years now.
It was a Thursday night and I started off with the slot games. I played Wonders of the Deep. This is one of Jackpotjoy's newer slot games featuring 15 lines. With a max bet players have the chance to win as much as £50,000 in just one spin. I just sat around and relaxed as I spun the reels. The payouts were decent but I found myself itching to play bingo. Even when I think I have my mind made up I always end up wanting one over the other no matter which game I choose.
I switched over to bingo and hung out in the Bejeweled room. The room was packed and has such a fun energy. The room itself looks just like the computer game we all know and love. Even the voice is the same. The prizes in that room are huge. In fact, the prizes at Jackpotjoy are larger in general than a lot of other online bingo sites. This is mainly because they are so popular and the flock of players boosts the prizes because of all the ticket sales. In between games I played the actual Bejeweled game to win free bingo cards.
I had lost several games in a row and felt inspired to play the Bejeweled slot game. I usually play Bejeweled 2 because I like that there are two features including free spins and a bonus game. I've always found that it paid pretty well and once you're lucky on a slot game you tend to never forget it.
I was in the middle of a free spins bonus and won £40 in total. My balance was up and I was excited to finally have some luck somewhere. If only I had known to play it sooner!
I won over and over and triggered both bonus features several times. Lady Luck was sitting on my shoulder and I think the only reason that she was is because she likes Jackpotjoy too. I don't envy her though if she intends to try to steal the Queen of bingo title from Barbara Windsor!