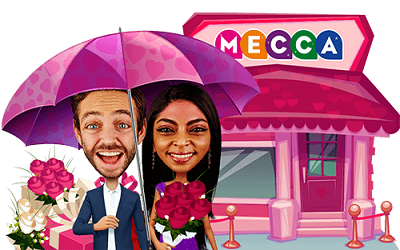 Time for some extra lovin on Sunday February 14th, Valentine's Day. Romance is running rampant at Mecca Bingo and you all are invited. Long after your dinner date has ended the passion still lingers. Even if you don't have a significant other there is that much more reason to participate in two fun exclusives.

Cupid's Valentine's Giveaway – Did you get a gift from your sweetheart - if not now worries. Cupid has drawn back this bow and has loads of gifts to reward players from 9am till 7pm. Keep a watchful eye out for Cupid who will fly from room to room spoiling players with prizes as he goes.

What makes it more intriguing is no one really knows when Cupid will show up, it is all purely random with no specific time. Who knows, you just might be the one struck with a gift from Cupid's bow.

Valentine's Day Bingo - On the hour, every hour on this evening, there will fantastic treats given away!

Yum there is Thorntons chocolate hampers to win plus hundreds of pounds' in vouchers with tons of good times to be had by all. But wait that is not all, there will be a big prize bingo game on the hour, every hour, from 6pm to 11pm.

Bingo cards costs just a mere 20p and the games will be linked across all these rooms: Two Little Ducks, Dancing Queen, Key to the Door, Legs Eleven and Lucky for Some.

The lucky players who win 1 line will receive a delicious Thorntons chocolate hamper worth £45. Win 2 lines and get a £100 Love to Shop voucher, and for the full house winner Mecca will give you a £500 voucher for either a luxurious spa, John Lewis or Debenhams.

Here's how we'll give out the full house prizes:

· 6pm - £500 Spa Vouchers

· 7pm - £500 John Lewis

· 8pm - £500 Debenhams

· 9pm - £500 Spa Vouchers

· 10pm - £500 John Lewis

· 11pm - £500 Debenhams

Happy Valentine's Day to all and may Cupid aim his bow straight at your heart!

By
Ava Jackuard