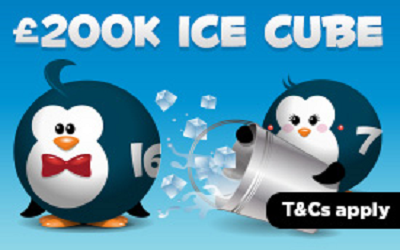 Hooray February has finally arrived! Why the excited anticipation? Well I thought you'd never ask! Frozen Bingo has been teasing us all about one of the most spectacular promotional events for quite some time now.

It appears that the penguins have found an amazing ice cube like no other. So massive it should really be called an iceberg but who are we to argue. This is no ordinary ice cube folks, far from it. There are cubes you popped in your glass and then there are cube that only a bingo player could understand.

The £200k Ice Cube adventure is what the penguins are waddling back and forth about. Roomies will have a chance to win their share of £200,000 in cash. Mark your calendars for Saturday February 27th at 8pm when it all begins with £1 each cards. And we can all thank that adorable snowman Sticks who made it a point that everyone can be a winner in this big game.

Yes, everyone is a winner and this is the breakdown of the prizes:

FH – £50,000

2L - £30,000

1L – £20,000

All Non-Winning Cards - £100,000

The £100,000 will be split between all participating players who didn't win any of the prizes. This prize will be split in the proportion of the tickets purchased by the player and out of all tickets purchased by all players. The prize amount will be credited into the player's bingo account within 72 hours from the Game completion.

Now is good time to join if you aren't a member yet. New players will receive a 300% Welcome Bonus by depositing as little as £5. Be sure to take advantage of the £1,200 cash Jackpots up for grabs every day.

There are 16 games going on every hour on the hour with a chilly super cool £1,200 waiting to be won every single day! Purchase your cards for just pennies and play for alternating £50 and £100 Cash Jackpot prizes!

And if that is not enough look out because there is a £5K snow storm brewing every Sunday. Let it snow, let it snow, let it snow because it may just get you £5,000. Complete the Coverall Pattern as fast as you can with a giveaway minimum of £500 and a chance to win up to 10x more.

Play every Sunday at 9 pm and the best part of all is the MAX FREE CARDS awarded to all funded roomies who have deposited in the last 7 days. That means that if you've funded your account, you'll play absolutely Free!

By
Ava Jackuard